GRAND KNIGHT'S MESSAGE
Brother Knights,



The 52nd Annual Tootsie Roll Drive will be held September 16-18, 2022. Please add this weekend to your calendars. We need every member to sign up for at least one two hour shift to collect donations in locations around Decatur. The Tootsie Roll Drive is one of the most recognizable activities that the Knights of Columbus does. The funds generated from this drive are used to support local programs which help people with special learning and life needs. Sign-up sheets are available by clicking on the links below this section of the newsletter and on our Facebook page. We will be collecting donations at Walmart North, four Circle K locations, the St. Teresa football game versus Meridian and after all weekend Masses at Our Lady of Lourdes, St. James, St. Patrick and St. Thomas. You may also make a personal donation by sending in or dropping off a check payable to Knights of Columbus Council 577 (memo: Tootsie Roll Drive) to The Hall at Five-Twenty (520 E. North St., Decatur, IL 62523). You may also make a donation with a credit or debit card with PayPal by clicking here. This event has historically been one of our best opportunities to publicly show our community support and we need everyone who is able to to sign up for at least one two hour shift.
---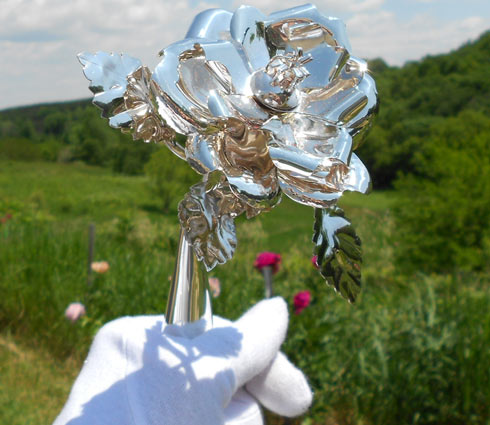 A silver rose on a nine-month pilgrimage will be the centerpiece of a special prayer service at St. Patrick Church in Decatur on September 11, 2022 at 6:00 PM. The program is sponsored by Knights of Columbus Decatur Council 577, Mt. Zion Council 11582 and Holy Family Council 17241 to honor Our Lady of Guadalupe and express both international unity and dedication to the sanctity of human life. The journey of the silver rose begins each year in March and ends on Dec. 12, the Feast of Our Lady of Guadalupe. During that time, Silver Roses travel from town to town along eight routes throughout North America. Several of those routes begin in Canada and end in Mexico. The Silver Rose Program began in 1960, when the first rose – a real, live one – was blessed by a bishop in Ontario. The rose then traveled to New York and then to Texas where it was taken across the border into Mexico. The rose ended its pilgrimage at the Basilica of Our Lady of Guadalupe in Monterrey on Dec. 12, the Feast of Our Lady of Guadalupe. To better ensure future annual trips, a silver rose was ultimately made. Today, due to the popularity of the program throughout the North American continent, eight silver roses travel unique routes. All members of the community are encouraged to join the Knights of Columbus at St. Patrick Church in Decatur on September 11, 2022 at 6:00 PM.
---

At the August Membership Meeting, the Council heard a special presentation from Brother Ed Smith, who is the executive director of the Decatur Area Habitat for Humanity. Ed spoke on how our Council can partner with Habitat for Humanity on a local level. Other Knights of Columbus Councils around the country work closely with Habitat for Humanity to build or repair homes. Each year, councils throughout the Order donate a considerable number of volunteer hours and dollars to this worthy cause. Our Council will continue to look for future opportunities where we can partner with Habitat on a build, with the Habitat ReStore or with a special project.
---
The Council had a winner of the Queen of Hearts Raffle on August 18. Dana Rozzell chose card number 27, which was the Queen of Hearts, and won the jackpot of $34,703 (about $25,000 after taxes). Thanks to everyone who helped sell tickets or bought tickets in the last few months. The last several weeks leading up to the final drawing were seeing record crowds at Wing Night and tons of excitement each night there was a drawing! The Council is beginning a new Queen of Hearts board and the first drawing is this Thursday, September 8. The jackpot for that drawing is $2,970. A couple changes to the rules going forward include new ticket prices and consolation prizes. New ticket prices are one ticket for $5, three for $10 or eight for $20. Also, if a person's ticket is drawn but they do not pick the Queen of Hearts, then that person will receive a consolation prize as follows: $50 for 2-10 card, $100 for Ace or Face card, or $150 for a Joker. A sign-up sheet to sell tickets at Wing Nights for September and October can be found below this section of the newsletter. If you are interested in purchasing tickets for the raffle, you may do so throughout the week leading up to the drawing from Stephanie or the other servers/bartenders at the Hall. You need not be present during the drawing to win.
---

For more information on the menu and other daily specials at the Hall at Five-Twenty, please like their Facebook page.
---
Free online membership for 12 months is available for new online membership applications with code BLESSEDMCGIVNEY at this link. If you know someone who you think would make a good Knight, please reach out to Membership Director Mark Nixon, Financial Secretary Gary Durbin or myself with any questions.
---
Fraternally yours,
Kevin Martin, Grand Knight