Jul 28, 2021
Overlooked Tax Breaks and Deductions
You need to claim all the write-offs you're entitled to if you really want to cut your tax bill to the bone. Unfortunately, though, people often miss great tax-saving opportunities because they simply don't know that certain …
Kiplinger
How Much Does It Cost to Sell a Home?
So, you're thinking about selling. You look up your address on Zillow and a "Zestimate" shows your home is worth $300,000. You deduct …
Investor Junkie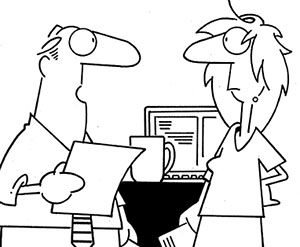 "If an invoice is due in 30 days, we pay it in 60 days. If it's due in 60 days, we pay it in 90 days. If it's due in 90 days, then they probably don't need the money anyway."


Copyright © Randy Glasbergen
14th Amendment Adopted
Following its ratification by the necessary three-quarters of U.S. states, the 14th Amendment, guaranteeing to African Americans citizenship and all its privileges, is officially adopted into the U.S. Constitution.
The day was Jul 28. What year was it?
Quote of the Week
"I saw the government really using the excuse of a weak economy and a financial crisis to create more government and to push onto the American entrepreneurial society more and more restraints and government activity."
Rob Portman
Trivia
Judging by the total dollar amount that was in circulation in July 31 2000, what percentage of US wealth was owned by Bill Gates alone?
See the answer below.