October 19, 2022
Top 10 Home Business Tax Tips
It is said so often that it has become a bit of a cliché, but one of the great virtues of starting a home business is the tax breaks you can claim. Another popular belief surrounding home businesses, however, is that claiming aggressive-and maybe slightly exaggerated-write-offs is a sure-fire way to attract IRS …
Investopedia
Who Benefits From Inflation?
It's no secret that rampant inflation has taken hold. With the Consumer Price Index, a commonly used measure of inflation, sitting above 8%, we've …
Forbes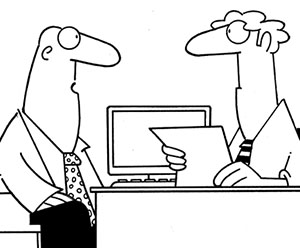 "Can I write off last year's taxes as a bad investment?"


Copyright © Randy Glasbergen
Victory at Yorktown
Hopelessly trapped at Yorktown, Virginia, British General Lord Cornwallis surrenders 8,000 British soldiers and seamen to a larger Franco-American force, effectively bringing an end to the American Revolution.
The day was Oct 19. What year was it?
Quote of the Week
"In all realms of life it takes courage to stretch your limits, express your power, and fulfill your potential... it's no different in the financial realm."
Suze Orman
Trivia
In the US, Keogh Plans are full-fledged pension plans for small businesses and what other type of people?
See the answer below.