Mar 9, 2022
How to Get Your Tax Refund Faster
If you're expecting a federal tax refund this year, you could get your money back in as little as three weeks. Historically, the IRS has issued over 90% of refunds due in less than 21 days. But this year could be different. Because of COVID-related disruptions, the IRS entered this tax filing season with millions of …
Kiplinger
10 Ways to Improve Cash Flow
If you own a business and your sales or top line are growing at a rampant pace and you're increasing profits each year, you're certainly headed in the …
Investopedia
Who Controls Cryptocurrencies?
With such a youthful market, it is natural to have some issues and misunderstandings amongst the people and the network. It, by extension …
Finance Monthly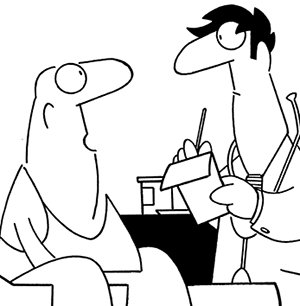 "I need something to relieve my stress. Can you prescribe some money?"


Copyright © Randy Glasbergen
Barbie Makes Her Debut
The first Barbie doll goes on display at the American Toy Fair in New York City. The first mass-produced toy doll in the United States with adult features.
The day was Mar 9. What year was it?
Quote of the Week
"Happiness is not in the mere possession of money; it lies in the joy of achievement, in the thrill of creative effort."
Franklin D. Roosevelt
Trivia
On the reverse side of the 2001 one dollar bill, above the pyramid, is the Latin phrase "annuit coeptis". What does this mean?
See the answer below.