Mar 16, 2022
Why Tax Refunds Are Extra Important This Year
The 2022 tax season is well underway, and though federal returns aren't officially due until April 18, there are extra reasons this year to file taxes early — especially if you expect a refund. Thanks to a perfect storm of economic factors, those tax refund checks are going to be more important than ever for many …
Money
Uncoupling, Kids and Paying for College
Now's the time of year when high school seniors are getting those much-anticipated letters from colleges. It can be a thrilling time for kids who get …
Kiplinger
4 Tips To Improve Your Finances
Think about your financial goals, now and in five-year increments. Maybe you want to travel for three months. Or, maybe you want to start a family or …
Finance Monthly
Don't Let Taxes Dim Your Retirement
Taxes are on the minds of many this time of year with the filing deadline looming. But too often, people think about taxes only on a one-year-at-a …
Kiplinger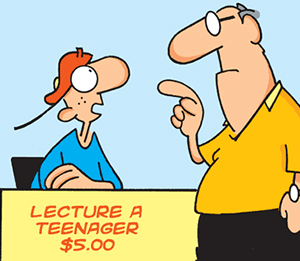 "I used to have a lemonade stand, but this pays better."


Copyright © Randy Glasbergen
U.S. Military Academy Established
The United States Military Academy, the first military school in the US, is founded by Congress for the purpose of training young men in the theory and practice of military science.
The day was Mar 16. What year was it?
Quote of the Week
"If all the economists were laid end to end, they'd never reach a conclusion."
George Bernard Shaw
Trivia
Which president is displayed on the front of a US $10 bill?
See the answer below.