Ways to Live the Catholic Faith in Your Family
Archdiocese of Dubuque Family Prayer Resources Web Page
Winter Activities for Catholic Families
Ten January Activities for Catholic Families
Fun Winter Activities for Catholic Families

Take Your Family (all of you!) to a Daily Mass

Start Each Morning with a Daily Prayer

Spend a Day Volunteering
The Christmas Season
In the Catholic Church, Christmas officially begins on Christmas Eve and ends with the
Baptism of the Lord
(January 9 this year).
January is
Poverty Awareness Month
January 1 –
New Year's Day
Celebrate New Year's Day by embracing family traditions, reminiscing on the past year, and looking forward to the possibilities in the year ahead.
January 2 – The Epiphany of the Lord
Epiphany
commemorates the visit of the Magi, the three kings bearing gifts for the newborn Christ Child.

January 3 - The Most Holy Name of Jesus
St. Paul wrote in his Letter to the Philippians that God the Father gave Christ Jesus "that name which is above every other name" (2:9). But devotion to the Most Holy Name of Jesus became popular through the preaching of St. Bernardine of Siena. Learn more about this devotion here.


January 9 – Baptism of the Lord

January 18 - 25 - Week of Prayer for Christian Unity

This year's theme is "We saw the star in the East, and we came to worship Him." (Matthew 2:2). During this week, Churches of all faiths are called together to create unity by heeding Jesus' prayer "that they all may be one." As we pray for the unity of Christians, may we be called to show "unusual kindness" towards one another, especially within our families. Read more about this special week here.


January 19 - 27 – 9 Days for Life
9 Days for Life is a multi-faceted novena for the respect and protection of human life. Each day, a different intention is accompanied by a short reflection, suggested actions, and related information.

January 22 - Day of Prayer for the Legal Protection of Unborn Children
This day of prayer recognizes the anniversary of Roe v. Wade.
J
anuary 30 - February 5 –
Catholic Schools Week
Do you know any Catholic School teachers? Catholic Schools Week is a great opportunity to offer up a special prayer for them to St. John Neumann, patron saint for Catholic teachers. For activities and more information about Catholic Schools Week, click here.
January 1 – Solemnity of Mary, Mother of God

Why is Mary called the Mother of God? Why do we honor Mary and call her Blessed? Mary is the Mother of God because of who JESUS is! And Scripture tells us to give honor where it is due and prophesies that all generations will call Mary blessed.

January 4 – St. Elizabeth Ann Seton

Learn about the first citizen born in the United States to be canonized a Saint. This foundress of the Sisters of Charity also opened the first American parish school and established the first American Catholic orphanage.
January 24 – St. Francis de Sales

Learn about this intelligent, patient and gentle spiritual director who believed that "the key to love of God is prayer."

January 28 – St. Thomas Aquinas

Learn about this famous philosopher, theologian, and Doctor of the Church, who regarded "parents as the principal agents in the moral formation of their children."
(Summa theologiae (ST) II-II, q. 10, a. 12.)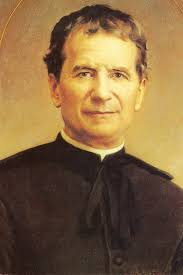 January 31 – St. John Bosco
This "Father and Teacher of Youth" changed the lives of many juvenile delinquent boys by encouraging them to consider a vocation to the priesthood.
Year of the Amoris Laetitia Family
Pope Francis has declared a Year of the Amoris Laetitia Family from March 19, 2021 through June 26, 2022 when the World Meeting of Families will take place in Rome. Learn more about this year, read a statement by Archbishop Jackels, and find resources for celebrating it, by visiting:
https://dbqarch.org/year-of-amoris-laetitia
.
Additional Resources can be found here:
Website Highlight
If you've struggled to read the Bible, this podcast is for you! Ascension's Bible in a Year Podcast, hosted by Fr. Mike Schmitz, guides Catholics through the Bible in 365 episodes starting January 1, 2022. Each 20-25 minute episode includes 2-3 scripture readings, a reflection from Fr. Mike, and guided prayer to help you hear God's voice in his Word CLICK HERE to view an introductory video, and to sign up and receive the Bible reading plan Fr. Mike will be following for the podcast.
Marriage Matters


Say 'I do' to 3 New Year's resolutions for couples
"Since the ultimate goal of marriage is to help your spouse (and children) get to heaven, we each must take steps toward this goal. ... We must make an effort each day to love our spouse; to honor, respect and die to ourselves for the sake of our beloved; the one we said 'I do' to." This article suggests three simple New Year's resolutions for marriages. Whether it is these three or other resolutions, talk with your spouse to decide on something new to commit to together as a couple in the New Year.
Book of the Month
Be a Happier Parent or Laugh Trying
Parenting is messy and joyful all at once. If you're questioning this statement, author Betsy Kerekes is here to tell you that it IS possible to raise a happy family - all with a little laughter. Be a Happier Parent or Laugh Trying is a new kind of parenting book that explains what a good parent is (and how to be one even if you don't feel like it), having fun with your kids but maintaining discipline, and becoming an expert at defusing tantrums. Kerekes explains that it's not about being a "better" parent, it's about being a happier parent. And it's possible, with a little laughter! This book would be an excellent resource for a parents' book study!
Movie Pick


Uncle Nino
Overworked executive Robert Micelli has little time for his loving wife, rebellious fourteen-year-old son, Bobby, and Twelve-year-old daughter, Gina, who desperately wants a dog. This disconnected family is transformed by long-lost Uncle Nino, an old-world Italian who unexpectedly arrives on their doorstep for a visit. Nino's simple, old-fashioned ways make him a curiosity to the neighborhood and an embarrassment to Robert, but Nino is slowly able to connect with each member of the family and teach Robert how to enjoy life's simple pleasures: good food, good music, and most important, La Familia!
There's An App For That!
On a Mission to Love: Rosary App
Based on the book On a Mission to Love: Rosary Meditations for Children and Families by Deborah Staresinic, this app is designed to help children and families form a daily habit of praying the rosary by starting with one-decade-a-day. With a simple tap of a button, children are led through one decade of the rosary at a time.

The app is created to engage children and families with images, music, and the voices of children praying the rosary. With Jesus and Mary as their example, children discover the key to authentic happiness is to live out their vocation to love by making a gift of themselves to others. Praying with the rosary app is one way to keep key Theology of the Body concepts alive in the hearts and minds of families.

You can access the app from your phone, tablet, or personal computer.
Download the app for iPhone or iPad here.

Interest in Pinterest
January Pinterest Highlights for Families
from the Archdiocesan Education Resource Center:
www.pinterest.com/dbqarch
Check out these January Pinterest topics focused on the family - the Domestic Church!
Embracing Inclusion
Greetings for the Christmas Season!
The Archdiocesan Disability Inclusion Retreat Team has created a video with Christmas Greetings to persons with disabilities throughout the Archdiocese of Dubuque. Please share this link with persons with disabilities and their families in your area:
https://dbqarch.org/news-to-know
Recommended Book:
Better Than Okay: Finding Joy as a Special-Needs Parent
Sometimes parents of children with special needs need practical tips. Sometimes they need prayers. And sometimes they just need to know they are not alone.In her down-to-earth way, special-needs parent and author Kelly Mantoan shares the steps parents can take to shift their focus away from the negatives of a diagnosis and towards acceptance, renewed faith, and joy. Published by Our Sunday Visitor, the book is available for purchase here. Download a free chapter here to find support and hope from Kelly's own story. This book is available for sign-out from the Education Resource Center (BK# 269930).
For additional information and resources for inclusion of persons with diverse abilities, please contact Lynne Chapman at l.chapman@dbqarch.org or 563-556-2580, ext. 246.
Prayers and Reflections
Ten New Year's Resolutions for Catholic Parents
This year, with God's help, we resolve:

To make spending time with God a priority,
and to encourage our children to spend time with Him
in prayer, in our home, and at Mass

To teach our children about God, His ways,
his promises, and His love for us

To treat our children with respect and love,
and to always have their best interests at heart

To forgive one another,
and to ask forgiveness from our children
when we have wronged them

To allow ourselves the grace and humility to be imperfect,
and to avoid punishing ourselves over imperfections

To rejoice in being the parents God made us to be,
and to resist the temptation to compare ourselves to other parents

To play more, and pray more
with our children

To show our children that they are loved
by making time for them,
especially when life gets busy

To work on strengthening our covenantal marriage relationship
in order to strengthen our family

To love our children as God loves them,
and to make sure they know it every day.
https://www.facebook.com/stpatrickcr/photos/a.567082723344870/1985425161510612/?type=3
Upcoming Events
2022 Archdiocesan Women's Conference

Beauty in Christ: Holy Women of the Visitation
Saturday, January 29, 2022 - 8:00 AM to 1:00 PM

Join women in your parish/cluster for this teleconference event, as together we explore the Visitation between Mary and Elizabeth! This year's theme, Holy Women of the Visitation, features two national speakers: Liz Kelly, author of Love like a Saint, and Emily Jaminet, author of The Friendship Project, and more! Talks will be available in English and Spanish. This year's virtual conference enables women to participate from the comfort of their own homes, or to gather in parishes to experience the virtual event together! Group rates will be available. Click here to learn more! Please contact Joanne Pohland with any questions.


2022 Archdiocesan Men's Conference
Saturday, March 19, 2022 9:00 AM - 3:30 PM
Xavier High School, Cedar Rapids (with live-stream available)

Mark your calendar for the 26th Annual Men's Conference! This conference will be held on the Feast of St. Joseph, and will highlight the example of St. Joseph as a model for all men. The keynote speaker will be Mark Hartfiel, vice-president of Paradisus Dei, a ministry that produces the "That Man is You!" men's program. The lunch session will be presented by Devin Schadt, the founder of the Fathers of St. Joseph men's ministry. Mass will be celebrated by Archbishop Michael Jackels. For more information and registration, please visit www.archmensconference.org.
Archdiocese of Dubuque
Marriage & Family Life Office
1229 Mt. Loretta Ave.
Dubuque, IA 52003
(563) 556-2580, x233
www.dbqarch.org/family-life