Ways to Live the Catholic Faith in Your Family
Archdiocese of Dubuque Family Prayer Resources Web Page
Observing the Lenten Season
Lent is an opportunity to share with our children the importance of prayer, fasting, and almsgiving. Consider how you might help others in need by giving your time, talents, and treasure together as a family.

April 10 - Palm Sunday
The Easter Triduum

April 14 – Holy Thursday
April 15
–
Good Friday
April 16 – Holy Saturday
April 17 - Easter Sunday and the Easter Season
April 24 - Divine Mercy Sunday
April 22 - Earth Day

April is National Couple Appreciation Month

National Couple Appreciation Month was founded to encourage couples to do something special to reinforce and celebrate their relationship – to let your spouse know he or she is respected and desired. Let your loved one know just how special and appreciated they are and how much you value them this month.
Spring Ideas for Your Family
April 4 - St. Isidore of Seville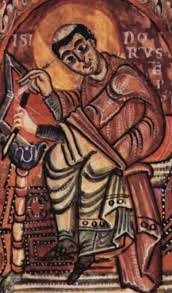 Both as a child and as an adult, Isidore was a strong believer in education. He is the patron saint of the Internet.

April 7 – St. John Baptist de la Salle
John spent his life teaching the poor. He trained teachers who soon became the "Brothers of the Christian Schools." He is the patron saint of teachers.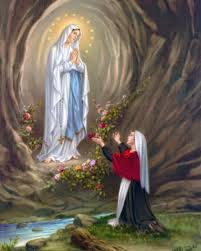 April 16 – St. Bernadette Soubirous
Bernadette was a peasant girl from a poor family in France. When she was only 15 years old, Our Lady appeared to her, asking her to do penance and pray for sinners.
April 23 – St. George
George professed loudly throughout the town that the Christian God is the only true God. His courage became legendary, and we honor him for that today.
April 25 – St. Mark the Evangelist
St. Mark is the author of the second Gospel. Tradition tells us that St. Mark was requested by the Romans to set down the teachings of St. Peter, which is the record of the life of Jesus seen through Peter's eyes.

April 28 – St. Gianna Beretta Molla

St. Gianna Beretta Molla was a faithful Catholic, a successful working woman, a devoted wife, and a loving mother of four. She is the patron saint of mothers, physicians, and unborn children.

April 29 – St. Catherine of Siena

As a child, Catherine had mystical experiences, seeing the guardian angels of others. She continued to have visions of Christ, Mary and the Saints. She was given the stigmata which became visible after her death.
Year of the Amoris Laetitia Family
Pope Francis has declared a Year of the Amoris Laetitia Family from March 19, 2021 through June 26, 2022 when the World Meeting of Families will take place in Rome. Learn more about this year, read a statement by Archbishop Jackels, and find resources for celebrating it, by visiting:
https://dbqarch.org/year-of-amoris-laetitia
.
Additional Resources can be found here:
Marriage Matters
Pope Writes to Married Couples in the Year of "Amoris Laetitia Family"
The Holy Father, as part of the celebration of the Feast of the Holy Family, published a letter to married couples. In it, Pope Francis highlights the unique blessings and difficulties of married life and encourages married couples to always invite Jesus into their marriage. He urges engaged couples to move forward in their marriage plans despite the difficulties which have resulted from the pandemic. The Holy Father finally greets the elderly, and reminds everyone of the singular importance of grandparents in the life of the family. The entire letter can be accessed on the Vatican website.

Click the link above for excerpts from the letter on the USCCB's "For Your Marriage" website.
Parenting Pointers
12 Easy Ways to Reset Family Prayer
Whether it's welcoming a new baby, vacations, or just being busy with the tasks of everyday life, family prayer time can get put aside for lots of reasons. As we move from Lent into the Easter season, this is a great time to renew your family's prayer life. These tips from Soren and Ever Johnson include: Set the tone; Keep it simple; Schedule it; Mix it up, and more! There are so many things that are competing for first place in our family life. But we need to put first things first, which means loving God above all else. Demonstrate that love with a renewed commitment to putting God first in your family's life. Consider incorporating these twelve tips for resetting family prayer from For Your Marriage.
Website Highlight
"Theology of the Body is a study of what it means to be human, in light of scripture's revelation, as articulated by Pope St. John Paul II ... Theology of the Body helps us to understand how we were created in the image of God, our identity in Christ, along with our gifts and givenness, so that we may see ourselves and others the way God intended. ... Topics within Theology of the Body are vast, and each spills into the next. But it is through this unique theological approach that we find a path to a deeply fulfilled life, where we understand our own innate dignity—and the dignity of others."
from: https://www.ruahwoodspress.com/what-is-theology-of-the-body
Book of the Month
The Summa Domestica: Order and Wonder in Family Life
When Leila Lawler started out as a young wife and then became a mother, she had no idea how to keep a house, manage laundry, or plan and prepare meals, let alone entertain and inspire toddlers and select a curriculum to pass on the Faith.
She spent decades excavating deeply rooted cultural memories and has now collected them in this comprehensive, three-volume set to help women who desire a proficient and systematic approach to home life.
The Summa Domestica comprises three volumes: Home Culture, which delves into establishing a home and a vision for raising children; Education, which offers a philosophy for the primary vocation of parents to form their children and give them the means to learn on their own; and Housekeeping, which offers practical details for meals, laundry, and a reasonably clean and organized busy and thriving household.
All at once lively, funny, calming, and complete, The Summa Domestica is an indispensable how-to book on making and keeping a home that will serve your family best.
Purchase this book set

here.
Movie Pick


American Underdog
Based on the inspirational true story of Kurt Warner, who went from stocking shelves at a supermarket to becoming a two-time NFL MVP, Super Bowl champion, and Hall of Fame quarterback. The film centers on Warner's unique story and years of challenges and setbacks that could have derailed his aspirations to become an NFL player. His dreams seemed all but out of reach, but with the support of his wife, Brenda and the encouragement of his family, Warner perseveres and finds the strength to show the world the champion that he already was, inside. American Underdog is an uplifting story that demonstrates that anything is possible when you have faith, family, and determination.

Interest in Pinterest
April Pinterest Highlights for Families
from the Archdiocesan Education Resource Center:
www.pinterest.com/dbqarch
Check out these April Pinterest topics focused on the family - the Domestic Church!
Embracing Inclusion
April is Autism Awareness Month
Explaining Autism to Children and How to Engage Them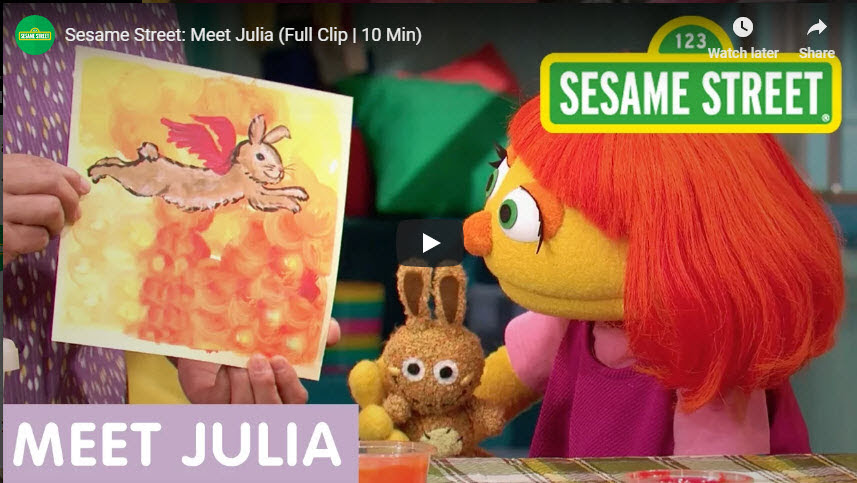 Several years ago, Julia, a special friend of Elmo's who has autism, was introduced as a new Sesame Street character. This video is a great resource and a simple way to introduce children in any group activity how to interact with those who have Autism Spectrum Disorder. To learn more about ASD, check out the East Central Iowa Autism Society (ECIAS) of Cedar Rapids website. Learn more about World Autism Awareness Day (April 2) by clicking here. The National Catholic Partnership on Disability (NCPD) also offers numerous resources for Autism Awareness Month. Click here to view these resources.
Lent: Practicing Corporal/Spiritual Works of Mercy
Lent can be the perfect reminder to practice works of mercy, especially in ministry to the poor and the disabled. As we think about prayer, fasting, and almsgiving, Lent can be for us a journey of mercy.
For additional information and resources for inclusion of persons with diverse abilities, please contact Lynne Chapman at l.chapman@dbqarch.org or 563-556-2580, ext. 246.
Prayers and Reflections
An Easter Prayer

Break Open the Tomb

Lord of Easter's Promise,
I live in faith of the Resurrection,
but such is the nature of my faith
that so much of me remains entombed.
Break open the tomb.

Where I've buried my compassion, break open the tomb.
Where I've buried my sense of mercy, break open the tomb.
Where I've buried my humility, break open the tomb.
Where I've buried my humanity, break open the tomb.
Where I've buried my love for my Heavenly Father, break open the tomb.
Where I've buried my sense of joy, break open the tomb.
Where I've buried my willingness to forgive, break open the tomb.

Lord, in you I've found a Savior no grave can withstand.
Help me to roll away this stone
and find the miracle of new life
that I may live more fully in your saving grace.

Amen.
source: https://www.crs.org/resource-center/break-open-tomb
(For a free download of this prayer, click here.)

For more Catholic Easter Prayers, click here.
Upcoming Events

2022 Archdiocesan Men's Conference
Saturday, March 19, 2022 9:00 AM - 3:30 PM
Xavier High School, Cedar Rapids (with live-stream available)

Mark your calendar for the 26th Annual Men's Conference! This conference will be held on the Feast of St. Joseph, and will highlight the example of St. Joseph as a model for all men. The keynote speaker will be Mark Hartfiel, vice-president of Paradisus Dei, a ministry that produces the "That Man is You!" men's program. The lunch session will be presented by Devin Schadt, the founder of the Fathers of St. Joseph men's ministry. Mass will be celebrated by Archbishop Michael Jackels. For more information and registration, please visit www.archmensconference.org.
Archdiocese of Dubuque
Marriage & Family Life Office
1229 Mt. Loretta Ave.
Dubuque, IA 52003
(563) 556-2580, x233
www.dbqarch.org/family-life