Sep 1, 2021
Tax Tips Before Your Income Blows Up
As entrepreneurs, we dream of making it BIG. We hone our skills for years, and sometimes go through 2, 3, 4 or more iterations of our business before it starts gaining traction, all while dreaming of the day that we'll make …
Forbes
Want to Pay 0% in Taxes? Here's How
One of the greatest expenses business owners and retirees alike face is income taxes. That's why a forward-thinking tax planner is so …
Kiplinger
Full Service Payroll, Workers Comp & Employee Benefit Experts
Full service, no penalty guarantee payroll services. We can also add custom workers comp & employee benefits to any of our payroll products. Top small business payroll agent in Pensacola! No extra charges for direct deposit, tax payment and quarterly reporting services.


Why reaching 40k in business profits get you big tax savings!
LLC, Sole Prop, Partnership and C-Corps can qualify for substantial tax reductions through an S-Corp designation with the IRS. There are certain rules to follow, however we are S-Corp experts and can save you a substantial amount of tax money if you qualify. Call Mike today to find out if you qualify.


Financial Lessons From The Pandemic
I was looking back through some old work files the other day. I came across a glossy brochure from a former employer setting out some …
Finance Monthly
Think Twice About Applying for Credit
Americans paid down billions in credit card debt during the pandemic, with balances declining 17% in the first quarter of 2021 compared …
Kiplinger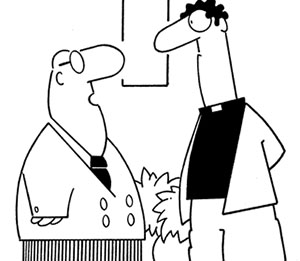 "If I count my blessings and some of them are heavily taxed, do they still count as blessings?"


Copyright © Randy Glasbergen
Atlanta Falls to Union Forces
Union Army General William Tecumseh Sherman lays siege to Atlanta, Georgia, a critical Confederate hub, shelling civilians and cutting off supply lines.
The day was Sep 1. What year was it?
Quote of the Week
"There are people who have money, and there are people who are rich."
Coco Chanel
Trivia
What do the letters represent in the over-the-counter stock market acronym NASDAQ?
See the answer below.