May 12, 2021
The Most Overlooked Tax Deductions
Itemized tax deductions have given many American wage earners a chance to pocket more income, rather than hand over their hard-earned cash to the government. For those who keep good records, deductions have long meant more …
Investopedia
Accounting Help When It's Needed
We're here to help you with accounting and tax planning so you can work on reaching your goals and dreams. Bookkeeping... Accounting... Tax...


Need Assistance With Tax Planning?
We've got you and your business goals and objectives in mind. All your tax planning needs are in expert hands. Bookkeeping... Accounting... Tax ...


How to Make Money as a Single Mom
Being a single mom is hard. Not only do you have to parent, but your family's finances and well-being fall solely upon your shoulders …
Investor Junkie
Build savings or pay off debt first?
I'm glad you recognize what an achievement it was to get through 2020 relatively unscathed. It's rather easy to think about what your …
USA Today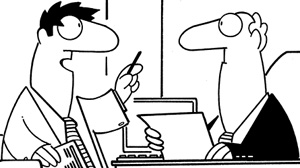 "If you buy now, I'll give you a 30% discount on the amount of time I spend in your office today."


Copyright © Randy Glasbergen
Racer A.J. Foyt Gets 1st Victory
A.J. Foyt scores his first professional victory, in a U.S. Automobile Club (USAC) midget car race in Kansas City, Missouri.
The day was May 12. What year was it?
Quote of the Week
"I'm a great believer in luck, and I find the harder I work the more I have of it."
Thomas Jefferson
Trivia
Why do some coins have reeded edges?
See the answer below.