Mar 2, 2022
Leveraging the Tax Code to Minimize Your Tax Liabilities
As we head toward March, one of most dreaded times of the year approaches: tax season. Right now is the time when you're inundated with tax documents, including a W-2 from your employer, 1099s from your side gigs, 1099-MISC statements from your online brokers, 1099-Rs for retirement income and more. There isn't …
Kiplinger
Accounting Help When It's Needed
We're here to help you with accounting and tax planning so you can work on reaching your goals and dreams. Bookkeeping... Accounting... Tax...


Need Assistance With Tax Planning?
We've got you and your business goals and objectives in mind. All your tax planning needs are in expert hands. Bookkeeping... Accounting... Tax ...


Should I Invest or Pay off My Mortgage?
If you've received a windfall of cash or saved a sizable sum of money over the years, it may be tempting to pay off the mortgage loan early. Whether …
Investopedia
How to Motivate Kids to Save
When I last wrote about kids and money, I posed a question from reader Victoria L., who was seeking advice on how to pique her granddaughter's interest …
Kiplinger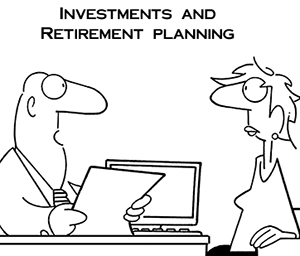 "Sure, it's possible to make good money from the lottery. Invest in the company that makes the cards."


Copyright © Randy Glasbergen
Lindbergh Baby Kidnapped
In a crime that captured the attention of the entire nation, Charles Lindbergh III, the 20-month-old son of aviation hero Charles Lindbergh, is kidnapped from the family's new mansion in New Jersey.
The day was Mar 1. What year was it?
Quote of the Week
"It's not the employer who pays the wages. Employers only handle the money. It's the customer who pays the wages."
Henry Ford
Trivia
In a newly printed US $20 bill, to what side is which president offset?
See the answer below.