Bulletin December 2018
Welcome to the latest edition of our e-bulletin. In this edition we have included information on:
Mental Health Together Newsletter
ln the last e-bulletin we told you about the changes at Mental Health Together (MHT). We've now published a newsletter which includes that information as well as articles from two of our Experts by Experience, Marc Hallsworth and Sue Wheatcroft.

Click on the button below to read about the great work that our experts are doing and think about whether you or someone you know might like to get involved too. We are planning training for our next cohort of Experts by Experience in January, so please get in touch if you feel inspired.

We ask all our potential Experts by Experience to complete an expression of interest form. You can download a copy of the form from the second button below, or we can send you a paper copy if you prefer.

Email: enquiries@mentalhealthtogether.org.uk or Telephone:
01773 880786
Co-production Training for our Experts by Experience
Co-production is about developing more equal partnerships between people who use services, carers and professionals. Earlier this year we invited key individuals involved in redesigning mental health services to some co-production training.

In November it was the turn of our Experts by Experience to receive co-production training. Kate Pieroudis and Peter Fleischmann from the Social Care Institute for Excellence (SCIE) told the group about the principles of co-production and the difference between co-production and consultation.

Experts by Experience were also empowered to produce their own co-production action plans.

If you would like to learn more about co-production have a look at the guide on the SCIE website: https://www.scie.org.uk/publications/guides/guide51/at-a-glance/
High Peak Engagement Group
Monthly meetings of the High Peak mental health engagement group are continuing to take place. In October we were visited by a familiar face, when Darren Greenwood part of the original MHT team joined us to tell us about his new role working as a Community Advocate for Derbyshire Mind.

Darren told us that the purpose of the community advocacy service is to support people to say what they want when important decisions are being made about their lives.

The service is available to Derbyshire residents aged 18 or over, including people with learning disabilities, mental ill health, physical or sensory disabilities, people with autism or Asperger's, older people, and carers. Individuals can self-refer rather than having to be referred by a professional.

Community advocates can attend meetings and assessments, write letters and signpost, but are not able to fill in forms. Further details can be found on the Derbyshire Mind website: http://www.derbyshireindependentcommunityadvocacy.org.uk/i-need-support/

In December we started to plan the meetings for 2019 and to think about the speakers we would like to invite. One of our new members, Louise Lee from Citizen Advice Derbyshire Districts, agreed to speak to the group early in 2019 about the Universal Support Pilot

currently being carried out by Citizens Advice in the High Peak. The project is aimed at helping people through the process of applying for Universal Credit.





If you live in the High Peak area and are interested in joining the engagement group, please contact us for details of the next meeting.
Joined Up Care Derbyshire
Joined Up Care Derbyshire is all about bringing together health and social care services to provide a better service for the people of Derbyshire. A video has been produced to give an example of how it is working. Click on the button below to see Jean's story, and for more information about Joined Up Care Derbyshire see the website: http://www.joinedupcarederbyshire.co.uk .
Joined Up Care Derbyshire - Primary Care and Responsive Communities Project Meeting
There are four mental health workstreams within Joined Up Care Derbyshire:
Primary Care

Responsive Communities

Dementia and Delirium

Forensics/Complex Care
We have Experts by Experience allocated to each of these workstreams to ensure that service receiver and carer voices are heard.

Due to the high levels of overlap, the decision was made to combine the Primary Care and Responsive Communities workstreams. Regular project meetings are now taking place bringing together professionals from health and social care services along with our Experts by Experience. At the meeting in November, the group considered some of the areas that it will work on initially.

One of the first projects identified is to look at the treatment of patients with what the professionals refer to as 'Persistent Physical Symptoms' (PPS). These are ongoing physical symptoms which in many cases, despite significant investigations, fail to be explained.

It is believed that mental health often plays a part and that existing community and primary care resources, including psychological therapies (often referred to as IAPT - improving access to psychological therapies), can work in an integrated way to prevent unnecessary and ineffective appointments for people with persistent physical symptoms. The purpose of this project is, therefore, to look at how intervention for patients with PPS could lead to better results for the patients and less strain on the system.

Another area being looked at is the entitlement of annual health checks for those with a 'serious mental illness' (SMI). Conditions categorised as a serious mental illness include schizophrenia, bipolar disorder, and conditions involving psychosis.

It is thought that many are unaware that they are entitled to the check and uptake is not good. NHS England has set a target that 60% of those on the SMI register should receive a full annual physical health assessment and appropriate follow-up care. Work will be carried out to investigate whether people entitled to the health check are aware, and the reasons they may not be attending appointments.

There was also some useful discussion on the requirement to provide 'support whilst waiting' for those who are waiting for assessments or treatment for mental health conditions. The group feel that this is an area that could have a significant impact and so it will be considered further.
The Mental Health Action Group (MHAG) is run by past and present users of mental health services. They liaise with other organisations such as statutory bodies and other healthcare providers to obtain information and influence their actions for the benefit of the mental health community. They promote services for people with mental health issues and are a friendly, supportive and empowering group that looks to the future.
MHAG usually meet on the second Wednesday of the month in various locations across Southern Derbyshire. The meeting on 9th January will take place at Elim Christian Centre, Charlotte Street, Ilkeston, DE7 8LH.
Tea & Coffee will be available from
1:30 pm
for a
1:45 pm start. The m
eeting will finish by
4:00 pm.
Please come along if you would like to join the group, new members are always welcome.
If you would like to be added to the database to receive the bi-monthly MHAG-zine produced by the group please click here to download a database consent form.
Psychodynamic Psychotherapy Update
Last time we told you about the proposal of the Derbyshire Clinical Commissioning Groups (CCGs) to decommission the Psychodynamic Psychotherapy element of the specialist psychotherapy provision.



Since then a decision has been made to review the wider psychological therapy services currently available. To facilitate this the current consultation has been paused.

The CCG acknowledges that to deliver a meaningful review they will need a programme of engagement to seek views from patients and service users, clinicians, partners, stakeholders and others. And that this broad-ranging review and engagement programme will enable them to understand the full range of potential opportunities that could be available to patients and service users.

Their immediate priority is to move rapidly to inform everyone who has been involved with the consultation of the pause. This will include an assurance that they will not be making changes to any treatment programmes currently in place and that appointments for patients and service users currently receiving treatment will continue as they are.

We will keep you informed of any further details of the review as they become available.
Feedback from the National Capita Meeting Regarding PIP Assessments
Last time we told you that Martin O'Kane, Team Manager (Development) at Derbyshire County Council Adult Care Mental Health Services, would be attending the national PIP Capita meeting in London in November. He asked for service user feedback so that it could be shared with those who are able to act on it.

Feedback provided indicated that the biggest area of dissatisfaction is the face-to-face assessments. Martin reported that Capita had been taken aback by the honesty and level of dissatisfaction that service receivers had reported. He suggested that it would be useful for Capita to hear some of the feedback first hand and Capita have agreed to run a focus group in the new year.

Martin suggests that as the area of most dissatisfaction is the face-to-face review, it would be better for claimants if they could avoid this. However, in order to satisfy the requirements of a paper-based review, claimants need to ensure that ALL PIP criteria have been met in the application, and that there is absolutely no conflicting evidence.

It has also been suggested that if a face-to-face assessment is required, claimants shouldn't go to the assessments alone.

Martin is now asking for your opinions on a YouTube video that the Department for Work and Pensions (DWP) has put together about claiming PIP. The button below provides a link to the video. Please email Martin directly with your comments.

Martin.O'Kane@derbyshire.gov.uk

Care Quality Commission Patient Survey
The Care Quality Commission (CQC) has published feedback from their 2018 community mental health survey. They received feedback from 12,796 people who were treated for a mental health condition between 1 September and 30 November 2017. The report shows that people's experience of mental health services has deteriorated across several areas according to this survey. In some areas, this represents a continued negative trend, with a consistent decline in results since 2014. In other areas, the results declined significantly this year, having remained relatively stable between 2014 and 2017.

The news isn't all bad. There has been a steady improvement in people's awareness of who to contact out of office hours when having a crisis. Most respondents (96%) knew how to contact the person in charge of organising their care if they had a concern. Nine out of ten respondents felt this person organised their care and services either 'very well' or 'quite well'. However, there has been a significant decrease in the proportion of respondents that are told who is in charge of their care (decrease from 77% in 2014 to 73% in 2018).

Better than average experiences were identified for respondents that were diagnosed with a psychotic disorder. More specifically, people diagnosed as having a 'first episode in psychosis' reported better than average experiences for the majority of key areas across the care pathway.

You can see the full report, including key areas for improvement and how results vary for different groups of people, by clicking on the button below.
4 Mental Health Launch Staying Safe Website
The Staying Safe website is a potentially life-saving resource developed by 4 Mental Health, with invaluable input from international academics, mental health practitioners, people who have survived suicidal thoughts and those personally affected by suicide through bereavement.

StayingSafe.net offers compassion, kindness and easy ways to help keep people safer from thoughts of harm and suicide, seek support and discover hope of recovery through powerful videos from people with personal experience.

The website provides vital 'Safety Plan' guidance tools jointly funded by NHS England, with easy to print / online templates and guidance video tutorials purposefully designed to help people through the process of writing their own Safety Plan. A Safety Plan helps to build hope, identify actions and strategies to resist suicidal thoughts and develop positive ways to cope with stress and emotional distress.

Tragically, suicide takes far too many lives, yet suicide is preventable. Anyone struggling to cope or experiencing deep distress may begin to think about harming themselves and consider suicide as a means to escape their emotional pain. It can be incredibly difficult to think clearly during these times. Everyone is encouraged to PREPARE for possible difficult times ahead BEFORE they happen, by completing a Safety Plan.

During times of deep distress, Safety Plans become a vital and valuable reminder of:
• What people can do for themselves to get through difficult times
• Practical ways they can make their situation safer
• Who to contact for support
• Where to go or who to contact in an emergency
It is 4 Mental Health's hope that anyone currently in extreme distress can share our hope that recovery is possible with the right support and that one day keeping a Safety Plan will be commonplace and regarded an extension of wellbeing and self-care.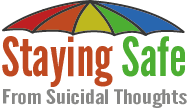 and finally.....
We'd like to thank everyone for all their support and involvement during 2018.