It is with sorrowful rejoicing that the news of the death of Mr. Bill Varner is shared with you. Bill passed away Wednesday evening at Wadley Hospital. Please keep his wife Joyce, son Bill Jr. and daughter-in-law Sandy in your thoughts and prayers. Bill was a active member of FUMC Texarkana for 60 years. A Time of Visitation with the family will be held this Sunday afternoon from 3 pm to 5 pm in the Cabe Center. A Memorial Service to celebrate Bill's life will be held on Monday, November 26 at 11:00 a.m. in the Sanctuary. A Service of Internment will be held proceeding the Memorial Service at 10:00 a.m. at Memorial Gardens.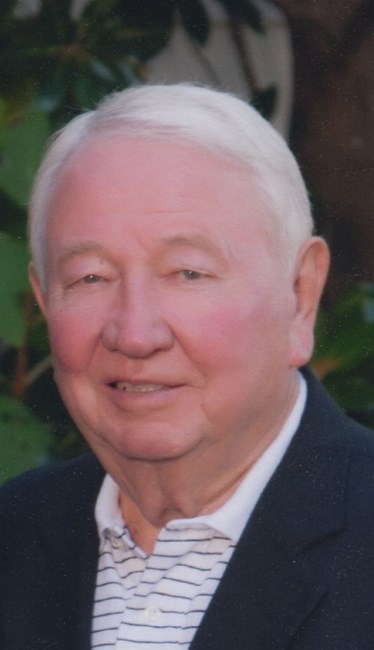 William Lewis (Bill) Varner was born September 5, 1934 in Miller County near what is now the Lowe Plantation. He passed away peacefully on November 21, 2018 after a long illness and a short stay in the hospital. He was a farmer and cattle rancher – raising the Arkansas Grand Champion Angus bull in 1958. He graduated from Arkansas High School in 1952. Bill went on to earn a bachelor's degree in animal science from the University of Arkansas in Fayetteville in 1956. He played baseball for the Razorbacks in 1954 and earned his spot on the exclusive "A" Club Roster. Bill followed Razorback sports his entire life and it is widely believed he knew more about Razorback sports than anyone and he never missed an opportunity to "Call the Hogs"! He was a high school basketball official for over 25 years. His love for the Hogs included the Arkansas High School Razorbacks as well. He was on the Texarkana Arkansas School Board and was instrumental in the building of the football stadium in 1971. Bill was a past president and former board member of the Miller County Farm Bureau, Miller County Levee Board, First United Methodist Church, Miller County Cattleman's Association and a Justice of the Peace. Bill has been an active member of the Razorback Foundation for over 60 years. He was appointed to the Arkansas Waterways Commission by Governor Beebe, serving as chair for several years. Bill, Joyce and Bill Jr. were selected as the Miller County Farm Family of the Year in the 1970's.
Bill never met a stranger and could converse with anyone on a wide range of topics. Joyce says that he acted like the mayor everywhere they went because he went around shaking hands and talking. He was extremely proud when Trey decided to go the U of A and enjoyed tailgating with him and the others in the Texarkana Tailgaters group.
Bill was preceded in death by his parents Ruth Jines Varner and Joe William Varner and a grandson, William Lewis "Trey" Varner, III. He is survived by his wife of 58 years Joyce Stewart Varner, one son and daughter in law, Bill Jr. and Sandy, one brother and sister in law, Joe Charles and Linda Varner, one sister in law and her husband, Carrie Stewart and Tommy Galloway, multiple nieces and nephews and various relatives as well as a host of friends both young and old.
In lieu of flowers the family requests that donations be made to the Frist United Methodist Church, Texarkana, Arkansas or the Trey Varner Benevolent Scholarship Fund, 7002 Tall Oak Drive, Texarkana, AR. 71854.
Graveside service will be 10:00 A.M. Monday, November 26, 2018 at Memorial Gardens Cemetery.
Memorial service will be 11:00 A.M. Monday, November 26, 2018 at First United Methodist Church, Texarkana, AR.
Family will receive friends Sunday, November 25, 2018 from 3 to 5 P.M. at First United Methodist Church Cabe Center, 6th & Laurel Street, Texarkana, AR.