Entering this moment
To be in any kind of balance state, especially if it's new is incredibly valuable to bring you into this moment, because the moment is in constant change. That's why we call it infinite, right? You can't grab hold of it and then be there. The second you're there, it's gone and you're in the next one, and that's this awake kind of living. Balance is the fastest way to enter into that space.

~ Thomas Droge from, Body work, writing, and parkour culture
~ Original Tagged Mindfulness, Quotes, Thomas Droge
Salutary
The Victorian love letter and the text message, the memoir and the Instagram selfie — they are all fragments of self-expression frozen in time, expressing a self fragmentary and discontinuous across the sweep of a life, fragments that can never reconstitute for posterity a complete and cohesive portrait of a person, because to be a person is to be perpetually contradictory and incomplete.

~ Maria Popova from, https://www.brainpickings.org/2021/09/09/aldous-huxley-island-universes/
Today was a good day. Any day wherein I stumble upon a word I do not know is a good day. I think it's just right as rain that Huxley would be the source of the "salutary" which caused me to reach for my dictionary. (If it's also new to you, I'll give you a hint: It has nothing to do with "salutation," as I had presumed.)
In addition to the unexpectedly salutary new word—a second hint—I was pleasantly held up in my light reading by Popova's sentiment. I'm certainly not going to truly understand someone in one brief conversation. But I am definitely better off for each of those experiences spending time visiting another island universe. (That's one of Huxley's metaphors. Click thru already!)
ɕ
~ Original Tagged Aldous Huxley, Maria Popova
Connecting through movement
Even, a lot of times, those people who you're not connecting with on a conversational level, you start moving together though— And you find a very deep connection. And now you're moving in their world or they're moving in yours, or whatever it is, but you found this other way to connect with somebody that you would have never known if you just worked with them or whatever the case may be.

~ Jonny Hart from, Art, coaching, and breaking jumps
~ Original Tagged Jonny Hart, Movement, Quotes
Pain versus suffering
Pain is inevitable. Suffering is optional. Say you're running and you think, "man, this hurts, I can't take it anymore." The "hurt" part is an unavoidable reality, but whether or not you can stand anymore is up to the runner himself.

~ Haruki Murakami
~ Original Tagged Haruki Murakami, Perspective, Quotes
Dissonance for the win
The same way having a diversity of traits within a population is optimal (yet uncomfortable) in nature, and having a diversity of personalities/beliefs/backgrounds is optimal (yet uncomfortable) in society, I would argue that possessing a diversity of values, perspectives, and inclinations as an individual is optimal (yet uncomfortable) for our psychology.

~ Mark Manson from, https://markmanson.net/what-is-wisdom
That's an insightful observation.
In certain circles there are some oft-posed rhetorical questions: What's the work only you can do? What, if you ceased doing it, would people miss? …because there's a lot of other stuff you could choose to do. Stuff which is easy, and which can be done by anyone. And then there's the other stuff: The stuff that requires us to balance competing priorities, to resolve conflicting requirements, and to choose among exclusive options.
When's the last time you made a sub-optimal decision knowing that doing so was better than doing nothing?
ɕ
~ Original Tagged Mark Manson, Wisdom
Effectiveness
Focus on effectiveness—what your actions will actually accomplish—and not self-actualization or other ways of trying to feel good about yourself.

~ Steven Pinker
~ Original Tagged Efficacy, Quotes, Steven Pinker
Fear
[F]ear is not a sign of personal weakness, but rather a natural state of discomfort that occurs whenever you're out of your comfort zone. It's there not to sabotage you, but to help you come alive, be more focused, and put you into the present moment and a heightened state of excitement and awareness. If you push the fear away, the only version of fear available to you will be its crazy, irrational, or contorted version. If you're willing to feel it, and merge with it, its energy and wisdom will appear.

~ Kristen Ulmer
~ Original Tagged Fear, Kristen Ulmer, Quotes
Relaxed concentration
The player of the inner game comes to value the art of relaxed concentration above all other skills; He discovers the true basis for self-confidence; And he learns that the secret to winning any game lies in not trying too hard.

~ W. Timothy Gallwey
~ Original Tagged Flow state, Quotes, Self-improvement, W. Timothy Gallwey
Starting where I am
I love the proverb: If there's somewhere you need to be, you need to start walking. And the only place where I can start walking? …is right where I am now.
I've written a smattering of stuff about my training over the years. Once, in college, (age: 20) I was briefly in shape thanks to several semesters' of effort put into Taekwondo. But in all that time since, I've always done well when someone else tells me what to do. "Do this today at this class. Come back for more." I've also done well following the pack. There was an epoch where I was riding my mountain bike excessively, but I really got in shape when I started meeting up with others and trying to keep-in-sight people much better than me.
Last year, as the sun disappeared in a Pennsylvania grey winter, I began plotting a way to take what I had experienced when a seriously dedicated friend of mine had been planning my training, and turn it into something I could use in a self-directed fashion. I'm not a professional athlete and I don't want to train like one. And on the other hand, simply "living my life" being active when I find those opportunities arising is not enough. I need some planning. So I'm working on that. Today, I'm just talking about the first piece of my plan: Tracking activity.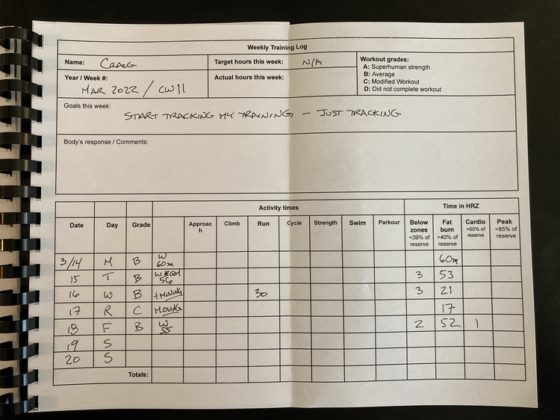 I have an older FitBit. It works fine, it's not fancy-schmancy… but critically, I refuse to pay them monthly for extra bells-n-whistles. So this tracking sheet lets me take some notes about what I did each day, and to simply copy down the totals of time from the 4 zones that that FitBit tracks. Simply having the tracking system encourages me to be more mindful about activity—for example, it's rather nice today, and I've a run in mind for later this afternoon.
The next piece of the puzzle is to begin working in activities that are more strenght-training in nature. A QM session, (there is one there on Tuesday,) some simple free-weight exercises, some bouldering, etc..
ɕ
Silence
Be the silence that listens

~ Tara Brach
~ Original Tagged Listening, Quotes, Tara Brach
Toe-tal recall
When viewed through an evolutionary or naturalistic lens, to walk, run and move barefoot is, of course, the default human condition. Any alteration of this is an alteration of not just millions of years of bipedal hominid function, but hundreds of millions of years of natural selection's honing and refining of foot structure.

~ Matt Wallden from, https://www.bodyworkmovementtherapies.com/article/S1360-8592(16)30050-X/fulltext
This is a stupendous deep-dive into our feet. I love the clarity of, "[a]ny alteration of this". Am I barefoot? (At this instant, yes. With my feet on very rough, old, worn concrete, on my patio, in 50°F weather.) If I am not barefoot, I want that to always have been a conscious choice—some specific reason for why I've chosen to alter the function of my feet.
ɕ
~ Original Tagged Feet, Matt Wallden