Keeping you small
The trick is: You bite off more than you can chew… and then you still chew it. Your mind always believes it can do less than it actually can. It will tell you it's too much, to stop, to take a berak, to cancel this or that. But your mind will lie to you to keep you small.

~ Will Smith

— original post, tagged Getting Things Done, Perspective, Quotes, Will Smith
Discourse
You don't know if your idea is any good the moment it's created. Neither does anyone else. The most you can hope for is a strong gut feeling that it is. And trusting your feelings is not as easy as the optimists say it is. There's a reason why feelings scare us—because what they tell us and what the rest of the world tells us are often two different things.

~ Hugh MacLeod
This quote, I think, also alludes to the problem of people "not getting" new ideas. It turns out that the same problem exists for old ideas to which people have grown unaccoustomed through lack of use.
Online discussion in forums is not a new idea. It's a time-tested idea; They can be a space to focus interaction. There are ground rules. There's a border defining what's inside and what's outside. Those inside have skin in the game. There is accountability.
The challenge is for each of us to resume engaging in reasoned discourse with others. That can be done in many places, not just in online forums. But in general, we've lost it in, (something like,) the last ten years when the current incarnation of the social networks rose and ate our attention.
ɕ

— original post, tagged Hugh MacLeod, Questions, Reason and Rationality
The wisdom of the body
You can't dance and be sad. You can listen to music and cry, you can read and cry, you can draw and cry but you can't dance and cry. The body won't let you.

~ Esther Perel

— original post, tagged Dance, Esther Perel, Quotes, Self-awareness
Deliberate practice
Deliberate practice is the key to expert performance in writing, teaching, sports, programming, music, medicine, therapy, chess, business, and more. But there's more to it than 10,000 hours. Read to learn how to accelerate learning, overcome…

~ Shane Parrish from, https://fs.blog/deliberate-practice-guide/
I was dubious at their title, but this article—a tiny book actually—is exquisite. With an estimated reading time of 43 minutes, there's a lot in there. For example, it mentions…
There is a place, right on the edge of your ability, where you learn best and fastest. It's called the sweet spot.…The underlying pattern is the same: Seek out ways to stretch yourself. Play on the edges of your competence. As Albert Einstein said, "One must develop an instinct for what one can just barely achieve through one's greatest efforts."

The key word is 'barely.'

~ Daniel Coyle
Has anyone read the book, The Little Book of Talent, by Daniel Coyle?
ɕ

— original post, tagged Daniel Coyle, Intention, Mindfulness, Shane Parrish, Training
Statuary
Sculpture is more divine, and more like nature,
that fashions all her works in high relief,
and that is sculpture. This vast ball, the Earth,
was moulded out of clay, and baked in fire;
Men, women, and all animals that breath
are statues, and not paintings.

~ Longfellow

— original post, tagged Creativity, Longfellow, Quotes
There may be something to this
Research now demonstrates that neuronal sensory integration actually happens much earlier in the sensory processing pathway and is actually optimized or heightened with multi-sensory stimulation, or what we call sensory stacking.

Sensory stacking is to bring in as many sensory input systems during an exercise or movement for the purpose of enhancing cortical stimulation and neuronal pathways.

~ Emily Splichal from, https://barefootstrongblog.com/2021/05/06/sensory-stacking-the-integration-of-tactile-visual-and-auditory-input/
Our entire schtick—whether you self-identify with Art du Déplacement, Parkour or Freerunning, or whatever—is moving in a visually complex environment. That turns out to have a physiological, brain altering affect.
ɕ

— original post, tagged Art du Déplacement, Emily Splichal, Movement, Parkour
Amusements
Let us read, and let us dance; These two amusements will never do harm to the world.

~ Voltaire
The Structurist
Sometimes I have a "thread of interest" that I simply know I will never have the time to do anything with. Instead of simply ̄\_(ツ)_/ ̄ing and letting it go, I'm sharing this here so I can feel like I did something with it.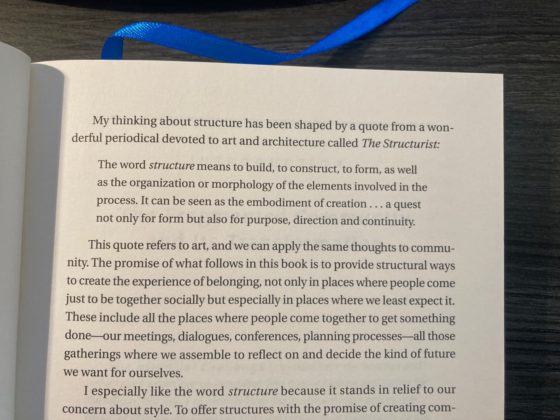 The what now? Oh, this periodical…
https://artsandscience.usask.ca/structurist/
…but the links on that page itself are broken. More searching did lead me to find at least some issues in U Sask.'s online store. But they are not cheap. (If they were single-dollars-each, I might just buy them all.)
They are available on ABE Books…
https://www.abebooks.com/book-search/title/structurist/
Open questions I had:
Does anyone within the sound of my voice have any issues?
Anyone have any commentary about the periodical at large?
Does anyone's closest library have any of them?
Is anyone near the University of Saskatchewan?
…have a contact there?
…or any in-real-life means of getting more information?
And also, why aren't the contents of these online? They seem to be culturally significant.
ɕ

— original post, tagged Books, Peter Block, The Structurist
Illusion
The self, the place where we live, is a place of illusion. Goodness is connected with the attempt to see the unself… to pierce the veil of selfish consciousness and join the world as it really is.

~ Erwin Schrödinger

— original post, tagged Erwin Schrödinger, Modeling reality, Quotes, Self-awareness
Dopamine
I've put forward a physiological hypothesis to explain the psychological Opponent Process theory, which I call the Receptor Control Theory. In essence, our pleasure set point or baseline "happiness" is determined by the density and sensitivity of dopamine receptors in the brain (and elsewhere). In this view, obesity and addiction result from a process of "dopamine resistance", whereby receptor down-regulation impairs satisfaction and drives cravings. Conversely, high receptor density and sensitivity promote satisfaction and dampen cravings.

~ Todd Becker from, https://gettingstronger.org/2019/10/retraining-the-limbic-brain-to- overcome-obesity-and-addiction/
Phone use might rise to the level of a literal addiction. Its use can certainly cause dopamine release, which is a strong motivator that plays a role in addiction. I used to think that wasn't true… That my phone didn't cause dopamine release… That my phone wasn't causing manipulation of my motivations… then I tried to put my phone down for an entire day.
And then I set about separating using my phone as a tool—which I can do a lot without it being addictive—from my phone's use of me as a tool.
ɕ

— original post, tagged Dopamine, Internet Tech, Todd Becker
Sculpting
The sculptor must paint with his chisel: Half his touches are not to realize, but to put power into, the form. They are touches of light and shadow, and raise a ridge, or sink a hollow, not to represent an actual ridge or hollow, but to get a line of ight, or a spot of darkness.

~ John Ruskin

— original post, tagged Creativity, John Ruskin, Quotes
A tiny commitment
To suddenly "go mindful" and try to be present all the time is about as easy as running a marathon when you've never even run around the block. Since most of us are not present the vast majority of the time, occasional stabs at "being in the moment" are quickly overrun by the colossal momentum of a lifetime of being lost in thought.

~ David Cain from, https://www.raptitude.com/2010/03/how-to-make-mindfulness-a-habit- with-only-a-tiny-commitment/
There's much worth reading on David Cain's Raptitude website. For example, his How to walk across a parking lot, is one of the greatest things I've ever read. But the piece I've quoted from above stands out as a terrific "how to…" for working on mindfulness.
I've been actively working on first self-awareness, then self-assesment and finally mindfulness, for many years. (And writing about my journey as I've done so.) But mindfulness is still something that comes and goes for me.
ɕ

— original post, tagged David Cain, Mindfulness, My Journey
Rewriting
Rewriting [is] very painful. You know it's finished when you can't do anything more to it, though it's never exactly the way you want it… The hardest thing in the world is simplicity. And the most fearful thing, too. You have to strip yourself of all your disguises, some of which you didn't know you had. You want to write a sentence as clean as a bone. That is the goal.

~ James Baldwin

— original post, tagged James Baldwin, On Writing, Quotes, Simplicity
Not in a vacuum
It can be easy to look at great geniuses like Newton and imagine that their ideas and work came solely out of their minds, that they spun it from their own thoughts—that they were true originals. But that is rarely the case.

~ Shane Parrish from, https://fs.blog/2020/04/shoulders-of-giants/
There's a perennial discussion around creativity that gets described various ways: "Steal like an artist." "Repurpose what's been done before." "Creating new from the old." I like Parrish's point, (in the article but not the quote above,) that "geniuses" first mastered the best that others had to offer. Then they go onward and farther to create something new.
If the only thing someone has ever done is sample and remix others' work… meh. But if someone has mastered some field—art, math, music, whatever—and then recombines and extends, (or pares down or transmogrifies)… then, ok. My distinction feels very close to the, No true Scotsman, logic fallacy, and yet I think it's a useful distinction.
ɕ

— original post, tagged Creativity, Genius, Shane Parrish