Courage
It takes courage to let go of what's not working. Rather than focus on what you're losing, hone in on what giving up goals affords you, like more time and energy. Remember no decision is permanent. You can continue to make adjustments until you find the balance of goals that works for you.

~ Melody Wilding
~ Original Tagged Goals, Melody Wilding, Quotes
I'm still playing Myst
I always liked those weird exploration games from the 1980s and 90s, like Zork and Myst, where you wake up in a strange environment, with no idea where you are or even who you are. You have to gather the context from the inside out, by wandering around, pushing buttons, peering behind wall paintings, and reading notes left by strangers who were here before you.

~ David Cain from, https://www.raptitude.com/2021/08/nothing-really-has-a-name/
I don't think I can really explain it. You either know what Myst is, (and it ate months of your waking hours,) and so know what he means; Or you don't. "I like those games because that's exactly what it's to be a human being, if you think about it." I hadn't until I read it. But, zoinks, he's right. The feeling I have in the middle of a great conversation is the same feeling I had exploring Myst, and while exploring all those other things Cain mentions learning about.
ɕ
~ Original
Alert watchfulness
We equate being smart and being driven as the ways to get ahead. But sometimes, an attitude of alert watchfulness is far wiser and more effective. Learning to follow your nose, pulling on threads of curiosity or interest, may take you places that being driven will never lead you to.

~ Tim O'Reilly
~ Original Tagged Perspective, Quotes, Tim O'Reilly
Sometimes the problem is you
The approach is to learn to find peace with chaos.

~ Leo Babauta from, https://zenhabits.net/feel-scattered/
As with everything I've ever seen Babauta post, I agree. If you're feeling scattered, you could do a lot worse than to read that article. It provides perspective, and some small, actionable things to start on.
Sometimes whatever-it-is is not actually a problem; The problem is our attitude about the problem. (Try Jack Sparrow's admonishment which echos Aurelius's reminder to himself.)
But, my Dear Reader, sometimes the problem is ourselves. We said 'yes' to one, or two, or twenty, things too many. And the yes's are insidious. We are all so eager to help, that we rush in. ("The rescuer," is one of the corners in the Karpman drama triangle. For which I refer you to M B Stanier's, The Coaching Habit, p138.) So, if you're feeling scattered: Check for drama.
The hard part is when you learn to start to set boundaries. Dealing with how setting boundaries feels when you're comfortable being the rescuer is hard. Dealing with how it feels when everyone knows you as that person is hard. It takes cahones to relax and sink, to save yourself from the drowning swimmer you were trying to save. It takes chutzpah, when a friend asks you for what they think is a small favor, to pause for several seconds, to do the mental calculus, to set your boundaries for just how much effort you're going to put into the thing… and only then answer them, 'Yes.' It takes brass to be kind enough to yourself to ensure you have boundaries that work for you.
ɕ
~ Original
Permission
Don't wait to be praised, anointed, or validated. Don't wait for someone to give you permission to lead.

~ Tara Mohr
~ Original Tagged Leadership, Quotes, Tara Mohr
There's your problem
Read the headline, tap, scroll, tap, tap, scroll.

~ Farnam Street from, https://fs.blog/2017/07/filter-bubbles/
Well, there's your problem. Right there in that first line of that article.
But it's not your fault. There's a huge asymmetry in the modern struggle.
The solution isn't to flee, but rather to grab all the technology doo-dads by the, err… doo-dads and make them do your bidding. Notice when something annoys you, and then take the time—it might be seconds, minutes, hours or days—to solve that problem. Triple-word score if you can eliminate something entirely; delete your account from one social network that you're ok with being without… that fixes annoying notifications. Delete an app. Find some web sites, (hey thanks for following mine,) that work the way you want them to. Subscribe to email if you like, use RSS if you like, etc.
ɕ
~ Original
Kindness
Storms make us stronger. If I had one message for young people embarking on life, it would be this. Don't shy away from the hard times. Tackle them head-on, move toward the path less trodden, riddled with obstacles, because most other people run at the first sign of battle. The storms give us a chance to define ourselves, to distinguish ourselves, and we always emerge from them stronger. The other key is to be kind along the way. Kindness matters so much on that journey of endeavor. It is what separates the good from great.

~ Bear Grylls
~ Original Tagged Bear Grylls, Character, Quotes
Paying attention
I understand now that I'm not a mess, but a deeply feeling person in a messy world. I explain that now, when someone asks me why I cry so often: "For the same reason I laugh so often— because I'm paying attention."

~ Glennon Doyle
~ Original Tagged Glennon Doyle, Quotes, Self-awareness
Words shape thoughts
Take this phrase for a test drive: Temporarily able-bodied.
That "temporarily" really packs a punch.
ɕ
~ Original Tagged Language, Perspective
Not previously possible
The idea that we should focus on disruption rather than the new value that we can create is at the heart of the current economic malaise, income inequality, and political upheaval. The secret to building a better future is to use technology to do things that were previously impossible. The point of technology isn't to make money. It's to solve problems!

~ Tim O'Reilly
~ Original Tagged Internet Tech, Quotes, Tim O'Reilly
Your kind of happy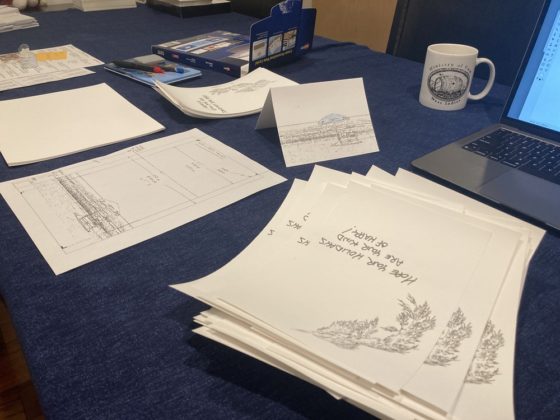 I'm not sure when we started sending out holiday cards. You know, the old fashioned way, in envelops with a stamp. But, it might be 20 years that we've been doing it. Some parts of it are a simple process; For example, we have a digital address list and I simply print the addresses on labels.
The two hardest parts however have always been finding holiday stamps that we liked—that sounds silly, but there it is. So this year, we're breaking with tradition and simply using the generic postage stamps that we keep on hand.
And finding cards we like. By the time we get around to starting on our holiday cards, it's too late to really do any custom ordering. Besides, neither of us is willing to buy something we can't see/touch. And there's the debate about do we print a photo of ourselves to include? …and what about including a sort of "this past year…" summary letter? Or perhaps those simple photo montages with a simple holiday slogan—we've been getting a higher number of those in recent years and it's nice to see everyone's photos…
This year we decided to do something different. We spent all of the time we would have spent finding the "right" stamps and finding the "right" cards… and bought cheap-ass plain Avery card stock and spent the time making them ourselves. The card is a solid mediocre job, as far as holiday cards go. But it's exactly the card we wanted to send out.
ɕ
Easy versus hard
Those things are easy now. They might cost more than we'd like, but you can put them on a check-list and they'll get done. What's hard now is breaking the rules. What's hard is finding the faith to become a heretic, to seek out an innovation and then, in the face of huge amounts of resistance, to lead a team and to push the innovation out the door into the world. Successful people are the ones who are good at this.

~ Seth Godin
~ Original Tagged Leadership, Quotes, Seth Godin
Better figure this part out
Despite having been published in 1910, Arnold Bennett's book How to Live on 24 Hours a Day remains a valuable resource on living a meaningful life within the constraints of time. In the book, Bennett addresses one of our oldest questions: how can we make the best use of our lives? How can we make the best use of our time?

~ Farnam Street from, https://fs.blog/2017/05/arnold-bennett-living-meaningful-life/
I've mentioned Arnold Bennett before, and my opinion remains the same: How to Live on 24 Hours a Day, is a delightful little read. Although this post from Farnam Street isn't where I first heard of the book, it remains a terrific summary. If you've ever thought, "I wish I could find time to…" you should read Bennett's thoughts.
ɕ
~ Original
In the end
Not just that every day more of our life is used up and less and less of it is left, but this too: If we live longer, can we be sure our mind will still be up to understanding the world—to the contemplation that aims at divine and human knowledge? If our mind starts to wander, we'll still go on breathing, go on eating, imagining things, feeling urges and so on. But getting the most out of ourselves, calculating where our duty lies, analyzing what we hear and see, deciding whether it's time to call it quits—all the things you need a healthy mind for… all those are gone.

So we need to hurry.

Not just because we move daily closer to death but also because our understanding—our grasp of the world—may be gone before we get there.

~ Marcus Aurelius, Med. 3.1
~ Original Tagged Marcus Aurelius, Perspective, Quotes
Education
The function of education is to teach one to think intensively and to think critically. Intelligence plus character—that is the goal of true education.

~ Martin Luther King, Jr.
~ Original Tagged Education, Martin Luther King Jr., Quotes
Recent podcasts
Susanne Mueller published part two of our conversation on, Take it from the Iron Woman and my conversation with Gerdi Verwoert appeared on her, Daring Self-Leadership & The Nature Connection podcast. Episodes of the Podcaster Community's show continue, recently with Simon Ratcliffe and Hernán Braberman.
ɕ
~ Original Tagged Podcasting