Unharmed
Choose not to be harmed—And you won't feel harmed.
Don't feel harmed—And you haven't been.

~ Marcus Aurelius
~ Original Tagged Marcus Aurelius, Perspective, Quotes
Choose wisely
For this coming year I've been trying on a number of phrases. Selecting a yearly touch-phrase is a fairly new habit. The oldest one I'm aware of is from 2012, but I've not had one every year since 2012. Each chosen phrase has been in English, with last year's being the sole exception. For 2022, I'm going to stick with English; The point of these phrases is to remind me of… something. I'm generally too clever by half, so keeping it simple is invariably the right choice for me.
In the recent weeks I've been letting my mind wander around, while keeping the thought that I'd like to find a good phrase for 2022. This is quite intentionally a way to shift my mental context, to adjust what I find salient. One pays attention to what one finds salient. In my recent wanderings, I found myself returned to a post about focus.
"Choose wisely," indeed.
ɕ
~ Original Tagged Choose wisely, Yearly touch phrases
Failure
Turns out they were the best decisions of my life. Because each one of those difficult decisions that looked like failures (at first) took me a bit closer to my real self. Each of them empowered the real me. Each of them woke me up from the illusion. At this point, I can see a clear pattern of rejection every time I try to get closer to my real self, so the feeling of "looking like a failure" has become more of fuel than a burden.

~ Jérôme Jarre
~ Original Tagged Jérôme Jarre, Quotes
Empathy and compassion
With emotional empathy, you actually experience a weaker degree of what somebody else feels. Researchers in recent years have been able to show that empathic responses of pain occur in the same area of the brain where real pain is experienced.

~ Farnam Street from, https://fs.blog/2017/12/against-empathy/
It seems obvious to me that being empathic is helpful since it suggests where to direct one's compassion. However, is it necessary to be empathic in order to be compassionate?
Without compassion is empathy beneficial? Without compassion might empathy actually be harmful?
Why is my mission creating better conversations to spread understanding and compassion?
ɕ
~ Original Tagged Empathy, Farnam Street, Vision and Mission
Risky
My main motivation as an artist has always been to create something different. I think the most that any of us can achieve is to find a way to say something new. But this type of thinking is rarely rewarded when it's time to publish. Newness is seen as a liability. Publishers want something that has been proven to work. This means that the best art will always be the riskiest.

~ Brandon Stanton
~ Original Tagged Brandon Stanton, Quotes
Before the fall
Pride is generally an emotion encountered only when looking backward. But we can also experience it when looking forward to each day, each month, each year, each decade, and even to the end of our life when imagining what we were able to accomplish in that time.

~ Chris Bailey from, https://alifeofproductivity.com/what-do-you-want-to-be-proud-of/
I'm also familiar with, "Pride goeth before destruction, and a haughty spirit before a fall." I'm not certain the meaning of haughty, although I'd bet that one who exhibits indignation, (anger or annoyance provoked by what is perceived as unfair treatment,) would qualify as "haughty."
And I sometimes joke that "indignation" is my other superpower.
All of which, I suppose, it a good thing. There are situations where indignation is righteous. But I'm well aware that my indignation—when it flares—is not. So maybe this exercise of looking forward could be a way to refine my pride? If I imaginatively project forward I can consider something I'd be proud of. Then, if I imagine not succeeding at that something, the pride disappears… and does indignation appear?
Does that seem right? …if success or failure in something, which is never actually in my control—reminder: the dichotomy of control—determines whether I experience pride or indignation, is that something actually one worth pursuing?
Could I find instead something about which I'd feel pride regardless of success or failure?
ɕ
~ Original Tagged Self-awareness, Stoicism, Thought and Philosophy
Do something
Posting about it isn't doing anything. It's just like talk … it's cheap! Too many people think they are supporting a cause, and the only thing they are doing is posting about it on social media. Doing something is doing something, everything else is just talk.

~ Ashton Kutcher
~ Original Tagged Ashton Kutcher, Quotes, Social Networks
Quantitative versus qualitative
That is how we are still conditioned socially as adults: Do, achieve, produce results, instead of be, feel, enjoy the process. Quantitative over qualitative. We are obsessed by performance and "tangible" results. But that is one of the great teachings of Parkour and ADD: That the path is just as enjoyable as the destination; That sometimes it is even more important, and that oftentimes it is the destination.

~ Vincent Thibault
~ Original Tagged Art du Déplacement, Quotes, Vincent Thibault
Which hour to value
However, the value of saving the marginal hour today is to increase the total number of one's working hours by one, resulting in a new hour at the end of one's career, not a new hour at their current skill level.

~ Mark Xu from, https://www.lesswrong.com/posts/beK9RBjMfkeSyqYTe/your-time-might-be-more-valuable-than-you-think
I've made the point that it's endlessly useful to put an explicit value on my time. I believe my logic and reasons still hold. But this idea, about needing to consider the value of the additional hour towards the end… well that, I'd never thought about. Which is daft of me, because I do often think about the marginal cost of things, and this idea is simply pointing out the marginal value gained by saving something now.
Hopefully, my occasionally marking, "duh," on my map as a reminder to myself, helps you in some way.
ɕ
~ Original Tagged Time Management
Refuge
Keep this refuge in mind: The back roads of you self. Above all, no strain and no stress. Be straightforward. Look at things like a man, like a human being, like a citizen, like a mortal. And among the things you turn to, these two: Disturbance comes only from within—from our own perceptions. That everything you see will soon alter and cease to exist.

~ Marcus Aurelius
~ Original Tagged Marcus Aurelius, Quotes, Self-awareness
What to focus upon
The practice is simply this: pause to consider what you'd like to focus on.

~ Leo Babauta from, https://zenhabits.net/everchange/
I'm great at focusing, but am weaker at intentionally choosing what I'm focusing on. I've no idea when I realized I was weaker at the latter point. While it's clear I have a lot of habits and behaviors which work well to help me deal with the weakness, I cannot recall if those developed simply by trial and error.
One habit which works well to avoid disaster is dump it out of my brain into an outline. An emergency spillway prevents complete failure of a dam, but if water ever goes over the emergency spillway, something is terribly wrong. That's me and brain-dump outlining. I flip my 40-minute sand timer and start a fresh outline, saving it to my computer desktop. (Aside: There is never anything on my computer desktop.) As I'm outlining, panic often nips at my heels. Eventually, I get most everything down. I find long strings of knock-down-doable domino tasks. And I usually find at least one Big Question buried in there.
And then I close the document. It's cathartic. It's as if, having written it down, it's in some sense done.
ɕ
~ Original Tagged Attention, Focus, Leo Babauta
Passion
Don't try to find your passion. Instead master some skill, interest, or knowledge that others find valuable. It almost doesn't matter what it is at the start. You don't have to love it, you just have to be the best at it. Once you master it, you'll be rewarded with new opportunities that will allow you to move away from tasks you dislike and toward those that you enjoy. If you continue to optimize your mastery, you'll eventually arrive at your passion.

~ Kevin Kelly
~ Original Tagged Kevin Kelly, Motivation, Quotes
Total control
In Part II of our series, we move out of the 01960s to explore the work of three artists who created their major works during the 01970s and 01980s. We see a shift with these artists to a focus on complete control over the exhibition of their work and meticulously curating the experience the viewer has coupled with a goal of permanence of the artwork in situ.

~ Ahmed Kabil from, https://longnow.org/ideas/02018/07/30/lightning-stars-and-space-art-that-leaves-the-gallery-behind/
I've little to add here, other than to attempt to convey how arresting I find the artwork in the article. The older I get, the more I find myself being delighted into pausing, often at the smallest coincidences. An alignment of trees, the color of the light, or sound traveling long distances or being altered by terrain and structures, are just a few things that catch my attention.
ɕ
~ Original Tagged Ahmed Kabil, Artwork, Landscape, Long Now Foundation
Creative freedom
All that was left was the three of us. Our relationship and trust in each other. Hanging out and having very little to do. Waking up, having breakfast, smoking pot, buying some records, listening to those records, and maybe playing some music. We now had total artistic freedom. Nobody, including us, was wed to any commercial expectations. This gave us the creative freedom to make whatever we wanted, completely free from fear and expectation. In hindsight this was a huge gift.

~ Michael Diamond
~ Original Tagged Michael Diamond, Quotes
Ignorance
One can't learn something new without first admitting one's ignorance. No matter how great a tea is, none can be poured into a cup that is full of water or turned upside down. There is no trying without being ready to fail. […] Some people, out of pride, exclusively want to achieve; Some others are willing to learn. Guess who gets most done in the long run?

~ Vincent Thibault
~ Original Tagged Art du Déplacement, Quotes, Vincent Thibault
First anniversary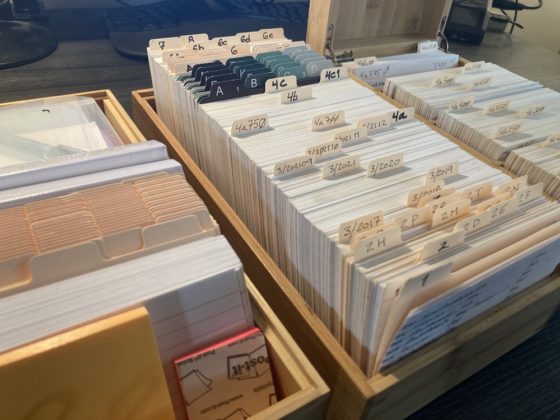 tl;dr: Yes, it really does work.
It's been one year since I started collecting my thinking in a slipbox. In the photo, the box on the left is full of materials—blank slips, dividers, etc. The box on the right is the older portion of my collection of quotes; It's the portion of the quotes which has been released as daily podcasts for the Little Box of Quotes. The center box is the meat of the slipbox and contains over 1,000 new slips, with about 250 of those being new quotes. But, enough with the statistics.
What can I do with it? A startling amount of interesting things come out. I'm not going to write up an article right here to prove it. But suffice to say I've recently been dipping into the slipbox to augment something I was writing. I'm trying to remember, any time I'm writing anything, anywhere to pause and ask the slipbox about it. When I do that, I almost always find something to add.
One really big question I had when I started the slipbox was whether I wanted it to be physical or digital. I'm happy to report that I made the right decision. So much of my life and things that I do are digital. I'm so tired of digital stuff. Any time I can be doing something in the physical world, that's a plus. Never once have I regretted not being able to free-text search the slipbox. Instead, it remains a pleasantly tactile experience to search, retrieve, and create.
ɕ
~ Original Tagged Knowledge systems, Slipbox