Reality
[…] enter the real world as soon as you can. […] I mean for you to get off of social media, to get out of the big cities, and to re-connect with what's real: Nature, your soul, your inner child. Respect yourself. Most of the world is asleep today, playing a small role in a gigantic illusion. You don't have to be. You can choose a different life. It's all within. You will know the answer when you take the time to find yourself and trust yourself.

~ Jérôme Jarre
~ Original Tagged Jérôme Jarre, Quotes
2022's touch-phrase shall be…
PUBLIC SERVICE ANNOUNCEMENT: I hope these emails aren't piling up in your inbox. I know of at least one reader who really enjoys them. They enjoy them so much, they keep saving them for a better time to read them, and they now have a pile. That's not what I meant to do to you; I'm so sorry!
Back on 3/3/2021, I changed this blog from going out as a daily email, to be a weekly email. One of the reasons was that I didn't want my email piling up in your inbox. I don't mean "waaaaaaaaa, you're not reading!" I mean that I don't want to be making your life worse. It doesn't actually affect me whether you read in a timely fashion, read later, or not at all. But puh-LEASE think about this:
If you enjoy these emails so much, don't you deserve to have a specific time that you can look forward to? Your favorite reading nook, a cup of tea (or rum or whatever)… you know: Make a little ritual out of it. If that ritual turns out to make your life better, then you can always remove my silly missives and slot in something actually worth reading. I digress.
Choose wisely.
Those of you who are regular readers will be aware that I've been thinkering on the touch-phrase for 2022. Coming out of the fourth turn, it looked briefly as if, Urgency?! might pull ahead in the final stretch to win by a, "U". But it wasn't to be; Choose Wisely was hard at it the whole way down the back stretch and simply had too demanding a lead for Urgency?! to overcome. And why did this turn into a horse race metaphor? They do sound like the name of race horses though. Choose Wisely takes up the mantel from a long lineage of winners: "No." "Simplify" "Hell Yes! or no." and "Festina Lente" (which is not an assessment of pasta's done-ness) to name a few.
Hopefully—lest my life have no meaning—I've made you laugh, or think twice, in the past year. Seriously though, please consider hitting one of those supporter links at the tippy top. Every dollar really does matter and move me towards making a living doing things I enjoy.
In other news, I've hit the "Drop cap" button on that paragraph back there a ways. Why? No reason. Just always wanted to use it, just to see what it looks like in the emails.
ɕ
~ Original Tagged Meta, Yearly touch phrases
Failure
If you set your goals ridiculously high and it's a failure, you will fail above everyone else's success.

~ James Cameron
~ Original Tagged Goals, James Cameron, Quotes
Simplify
Never use a long word where a diminutive one would suffice. When you want to keep a story moving don't spend a lot of time going on circuitous side trips when you could instead proceed directly to the most interesting, active parts. Like that time I was in the Antarctic with Ernie and we had to abandon the Endurance to the ice, it's important to use good visuals to make your point in as few word as possible. Also, there are clear rules for writing, such as: One should only write authoritatively about that which one actually knows. Other rules include: Don't overuse colons; It's important to know how to use a semi-colon.
Not sure how I got on that train of thought. It simply struck me to try writing a paragraph which was maximally incorrect. I should probably exercise more restraint. But what started this post— What prompted my title selection was:
I've decided to stop tracking my waist measurement. It simplifies my crazy list of things I try to do every day, sure. It also eliminates the number of times I go to weigh/measure and have to double-back for reading glasses to see the tailor's tape. I had started tracking it so that I could calculate my waist to weight ratio. After a few years I've learned that the ratio is telling. Not in a depressing way, but it's a very interesting number—I can tell my level of fitness, how I'll feel if I try to do something (say, go run, or boulder,) and it's a great indicator. But having the data didn't enable to do anything. ¯\_(ツ)_/¯ So, lest I go ever onward adding processes and things and systems and numbers— ahem. Dropped it.
ɕ
~ Original Tagged On Writing, Snark, Waist to Weight Ratio
Things
The things you own end up owning you.

~ Chuck Palahniuk
~ Original Tagged Chuck Palahniuk, Consumption, Quotes
Caution: Tulpa
I've recently made a startling discovery: Maybe there really is a tulpa in my head.
First, I've said for many years that my brain is broken. (Yes, I am aware I have terrible self-talk.) Here's why I call it broken: I am literally unable to NOT see problems. I notice an endless onslaught of things that, in my opinion, could be improved. I don't mean, "that sucks, I wish it could be better." No, I mean, "that sucks and it's obvious this way would be better and if you'd just let me get started . . . " Adderall might help, I suppose.
Everyone loves that I get stuff done, and try to make things better. But unless you have this same problem, I'd imagine it's hard to understand how this is debilitating. I am aware that this is recursive—I see my own brain as a broken process that I feel I should repair. All I can say is that you should be happy, and thank your fave diety if that's your thing, that you don't understand. Because to understand is to have the problem, and you do. not. want. this. problem.
Second, I've also said for many years that, "the remainder cannot go into the computer." I'm referring to a endless source of struggle in programming and systems administration; Computers are exact, and the real world—with its real people, real problems, and things which really are subjective shades of gray—is not. So programmers and systems administrators factor, in the mathematical sense of finding factors which when multiplied give you the original, reality into the computers. And when factoring reality, there is always a remainder. That remainder shows up when you find your software does something weird. That could be a mistake, but I tell you from experience, it is more often some edge case. Some people had to make choices when they factored.
The result of that second point is that I've spent the majority of my life factoring, (and "normalizing" for your math geeks who know about vector spaces,) problems into computers. And then trying to live with the remainders that didn't go into the computer. The remainders are all in my head. Or on post-it notes on my wall, (back in the day.) Or the remainder is some scheduled item reminding me to check the Foobazzle process to ensure the comboflux has not gone frobnitz. To do that I had to intentionally be pragmatic and logical. And the really scary part is I also learned that the best way to do all of that was to talk to myself—sometimes literally, bat-shit crazy, out loud, but usually very loudly inside my own mind—to discover the smallest, least-worst, remainder that I could manage to live with.
What if those two things were sufficient to create a Tulpa. (I am serious.)
I think there's a Tulpa in here! (My title is the sign on the front gate.) It is absolutely pragmatic. It knows an alarming amount of detail about things I've built, (or maintained, or fixed.) It is cold and calculating. It is terrified that it will forget about one of those details, 2347 will happen, and everyone will run out of ammunition defending their canned goods from the roaming bands of marauders. I definitely don't "have" the Tulpa. It's more like discovering there's an extra person living in your house. Although, I don't hold hope of banishing this Tulpa, Yoda does make a good point if I'm going to try. So, I should definitely give it a name.
Maybe, Sark?
That is an intriguing idea indeed! Sark, what do you think?
ɕ
~ Original Tagged Apogee, Brain and Mind, Sysadmin, Tulpas
What to seek
Do not seek to follow in the footsteps of the wise, instead, seek what they sought.

~ Matsuo Bashō
~ Original Tagged Matsuo Bashō, Quotes, Wisdom
Overshadowed
Not to live as if you had endless years ahead of you. Death overshadows you. While you're alive and able—be good.

~ Marcus Aurelius, med. 4.17
~ Original Tagged Marcus Aurelius, Memento Mori, Quotes
Slips
I was leisurely tinkering my way through my morning, and my mind kicked out a few ideas. It always does that. Yes, I talk about my mind in the third person, because sometimes I think I have a Tulpa.
The first idea that popped up was about sending a message to someone to wish them a Happy New Year. At the time, I had not yet awakened the sleeping dragon—my computer. (I could say: My personal Eye of Sauron was still closed.) Things change for me once I awaken the dragon each day. But I have this idea to send a message, and it's important, but I don't dare awaken the dragon to ask if I can just send this one quick message. I'll look up again and it'll be 4 in the afternoon. Instead, I grabbed one of my precious slips and jotted a note.
Holding the slip I realized this was brilliant. I recently bought a brick of 1,000 3×5 cards because the slipbox is voracious. I have plenty of these little slips. So why hadn't I done this for the past year that I've been keeping a slipbox? Why did it happen for the first time today? It happened because I used to see the slips as precious; They were nice, heavy, beautiful 3×5 cards that sit close at hand and are supposedly waiting to become immortal slips in the slipbox. Just the other day, I used the last one of my original stash, and I broke open that new brick… and realized I'd bought cheap-ass crappy Amazon knock-off 3×5 cards. (I had only spent $13 for 1,000 so I wasn't too upset.) When that idea to send a message popped into my brain, I thought: "well, I have 1,000 crappy slips to use up . . ." and this little queue of individual ideas quickly appeared on my desk.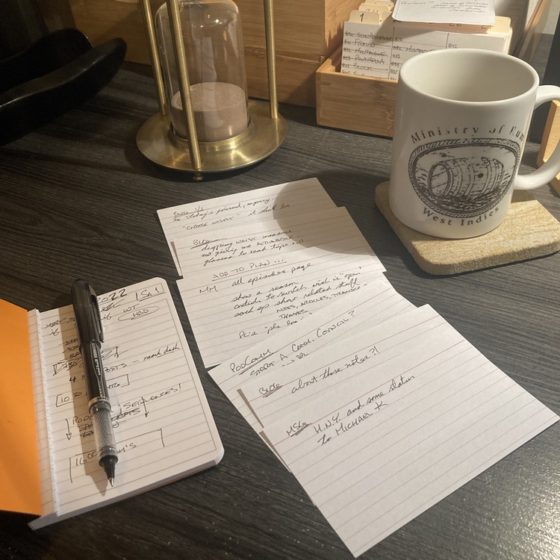 The lesson I re-learned this morning is that even a slight change of context can have an outsized affect on something. (In this case, my "precious" slips [you're hearing Gollum aren't you?] had become "crappy" slips.)
Setting aside what you think of my specific anecdote here, where might you make a small change and discover some surprising benefit?
ɕ
~ Original Tagged Apogee, Note taking, Slipbox, Tulpas
Inner knowledge
Make yourself proud. I think we spend too much of our time trying to please everyone. And we forget that it's all already within. Your instinct, your inner child, your soul, all of those know what's good for you and the world. The public opinion of your friends and strangers online, not so much.

~ Jérôme Jarre
~ Original Tagged Jérôme Jarre, Quotes, Self-awareness
Experience Imagineer wanted
I'm looking for an Experience Imagineer who is passionate about community, to help me with community building on the Podcaster Community.
ɕ
~ Original Tagged Community, Podcaster Community
Connection
After a long time, I realized that people weren't sitting out there waiting to cruelly judge me. They also weren't sitting out there waiting to hear me expound on my incredible expertise. What they wanted more than anything else was a sense of connection, and I could provide that by being genuine and present. I realized that what I also wanted was connection, and I didn't need to be a perfect speaker for that to happen.

~ Sharon Salzberg
~ Original Tagged Quotes, Sharon Salzberg
Get off my star map
The plaza's terrazzo floor is actually a celestial map that marks the time of the dam's creation based on the 25,772-year axial precession of the earth.

~ Alexander Rose from, https://longnow.org/ideas/02019/01/29/the-26000-year-astronomical-monument-hidden-in-plain-sight/
These weren't on my mind when we planned our visit, but it was a rare moment of delightful recognition when I spotted them. So often I find interesting places, and then never get there.
And sometimes I go places specifically after finding them on the Internet.
ɕ
~ Original Tagged Alexander Rose, Atlas Obscura, Hoover dam
Positive impact
In stressful moments, I try to take distance from the situation, take time to reflect. Whatever the problem, I typically ask myself, "Am I able to make a difference right now?" If I don't see a clear way to make a positive impact, I reflect further. I think that patience in problem-solving can often be underrrated.

~ Eric Ripert
~ Original Tagged Eric Ripert, Patience, Quotes
Be polite
Be polite, on time, and work really fucking hard until you are talented enough to be blunt, a little late, and take vacations and even then … be polite.

~ Ashton Kutcher
~ Original Tagged Ashton Kutcher, Quotes, Society
How does one take notes…
…when the goal isn't to end up with a pile of notes?
There are many scenarios where, over time, I do want to end up with a collection of notes. This is straight forward; start taking notes, and keep them somewhere. Bonus points if you review them, or use them as reference, or do anything with them.
But what if I have a scenario where I want to "do a better job" but I don't care at all about the notes themselves. Suppose you have a regularly scheduled recurring meeting, but you don't need a historical collection of notes. In fact, suppose you don't actually need notes, but you think: It would be nice to know what we did last time, so we can follow-up next time.
And so I'm thinking this would be easy. I'll just have a pile of notes (physical, digital, whatever) and I'll go through them and … wait, what, actually? Recopy them? gag, that's tedious. How many do I keep? How long do I keep the old ones? Here's what I came up with…
I'm working in a single digital document. I have a heading, "Ongoing," at the top that has the big things we currently have on our radar. The list has some dates with notes; "Oct 2020 — started that big project" and similar things.
Next I have a heading, "Jan 5, 2022" with the date of our next scheduled meeting. When that meeting arrives, I start by doing something very weird: I add "9876543210" on the line below the heading. Then I take simple bullet-point notes under that heading. "We discussed the foo bazzle widget needs defranishizing," and similar items. Before our meeting ends, I add a heading for the date of the NEXT meeting, ABOVE this meeting's heading. This pushes the heading and notes down the page a bit.
Then I continue reading. The heading just below this meeting's, is the date of our last meeting. Just below the heading is "9876543210", which I put there when we had that meeting. I delete the "9" from the front. I read my notes from the meeting. I may even edit them. Sometimes things that were obvious then, don't seem so obvious a week later.
Then I continue reading. The next heading is the one from two meetings ago. Just below it is "876543210" — think about that, if it's not obvious that last week, I read this part and already removed the "9". So this week, I remove the "8." Read the notes.
I work my way down each of the historical dates. Snipping a lead number, off the front of the line after each heading. 7. 6. 5. etc.
At the very end of the document, I find a heading that is from 11 meetings ago. Below the heading is "0" — because I've looked at these notes 9, 8, 7, 6, etc deleting a digit each time. These notes are now quite old. In fact, they should be irrelevant after 11 meetings. If they are not, I figure out what I have to add to "Ongoing" (the very topmost heading)… or perhaps I put a note under the coming meetings heading (just below "Ongoing".)
It sounds wonky, but it's magic. One digital document, you can skim the entire thing right in any of the meetings. You can search in the document. I can be sure I'm not forgetting things, but I can be sure I'm not making a huge collection of crap I'm never going to look at again.
Care to guess where that delete-a-digit each time comes from? It's an idea from book printing. When they used to set type (physical lead type in trays) they would put "1 2 3 4 5 6 7 8 9 10" (or other orderings of the numbers) in the cover plate. Then print the book. What printing? This one is "1" Next printing? …they'd just chip off the "1" and print "2 3 4 5…" in the book… second printing. They still print those weird sequences of digits in digitally printed books. I believe this one is a second edition, 3rd printing…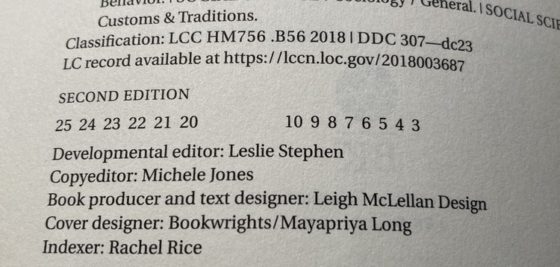 ɕ
~ Original Tagged Apogee, Books, Knowledge systems, Note taking