Motivation and habit
Motivation is what gets you started. Habit is what keeps you going.

~ Jim Rohn
~ Original Tagged Jim Rohn, Motivation
What shall 2022 be?
I've begun pondering what shall be 2022's touchstone phrase, or word. 2021's "festina lente" has served me well. I'll miss it, but it's been worn smooth after a year.
I was flipping through my notes. First my notes about previous years' phrases, but then wandering through the slipbox. I wandered into the section audaciously labeled, Mastery Projects, and then swung a left into the aisle labeled, On Learning Itself. There's a stack of slips in there, many of which are notes from a book. This captured quotation held my interest:
If writing is the medium of research and studying nothing else than research, then there is no reason not to work as if nothing else counts than writing.

~ Sönke Ahrens from, How to Take Smart Notes
Perhaps something chosen to remind me to write? …or why I want to write? "Seize the pen?" I feel I'm too far off in the weeds . . .
The next aisle is labeled, Fitness & Health and I swing in there. There's a slip in there about one's "first body" versus one's "second body", which I noted in 2017 based on a podcast with Jerzy Gregorek. That reminds of something else Gregorek said. I had to go elsewhere in the slipbox—via his name, and then into the huge section on Analects, to find his comments about, "Hard choices, easy life. Easy choices, hard life."
"Choices" then, perhaps?
cerne sapienter?
ɕ
~ Original Tagged Jerzy Gregorek, Latin, Sönke Ahrens, Yearly touch phrases
Conflagration
Our inward power, when it obeys nature, reacts to events by accommodating itself to what it faces—to what is possible. It needs no specific material. It pursues its own aims as circumstances allow; it turns obstacles into fuel. As a fire overwhelms what would have quenched a lamp. What's thrown on top of the conflagration is absorbed, consumed by it—and makes it burn still higher.

~ Marcus Aurelius
~ Original Tagged Marcus Aurelius, Mindset, Quotes
Longplayer
There was, for about 10 years I think, a dedicated Parkour space, called the Chain Store, on Trinity Buoy Wharf. That's right smack on the Thames, in the Docklands (far eastern) part of London.
I've been there several times, and the first time I went there—as I often do wherever I go somewhere new—I took the time to stroll around the surroundings. Around two corners of the building, I found this odd little display. It was sort of like a wooden phone booth—American-style I mean, not the British style—or sort of like a little shed. It had a sign on the little door, in a pinkish or perhaps simply very faded, sort of printing. It was odd. There's absolutely zero foot traffic at that spot. It's around the back of a building, facing directly out onto the Thames. (Which at this part, is a huge wide muddy dolorous river with these enormously high wharf sea walls going straight down into the water. i.e., unapproachable by water.) The spot with the sign is off a light-rail transportation, turn the easy-to-miss "other" way on the platform, down those other stairs, hug a huge fence, walk around a traffic circle, down a side street, round a corner between high walls fronting on construction sites . . . out onto the end of a wharf that's surrounded by "water" . . . you get the idea. Way out nowhere.
Anyway. Little shed. Sign. I open the door. If memory serves, it was literally a shed. With a little phone in it. Looking behind me—seen too many movies, so I'm watching for someone to sneak up behind me while I'm distracted by the phone… Looking behind me I pick it up to listen…
Silence.
I read the sign again. It has this circular sort of design that looks like an elementary school drawing of the solar system. And says, "Longplayer." I took a photo, and went back to my wandering the surroundings.
https://blog.longnow.org/02018/04/25/this-is-how-you-perform-a-piece-of-music-1000-years-long/
ɕ
~ Original Tagged Chain Store, London England, Long Now Foundation, Longplayer, Trinity Buoy Wharf
Lilliputian
Most great writers suffer and have no idea how good they are. Most bad writers are very confident. Be willing to be a child and be the Lilliputian in the world of Gulliver, the bat girl in Yankee Stadium. That's a more fruitful way to be.

~ Mary Karr
~ Original Tagged Mary Karr, On Writing, Quotes
Dnt fd th trlls
One of the challenges for any website that allows for user content — no matter the size of the website — is how to deal with trollish behavior. There are a variety of options available, including just deleting such comments, but one option that got attention in the mid-2000s was the idea of disemvoweling.

~ From https://www.techdirt.com/articles/20210818/15321447384/content-moderation-case-study-boingboing-begins-disemvoweling-trolls-2007.shtml
Tee-hee. How did I never know about this?
But to be clear: No this isn't something that I'm going to implement in any of the spaces where I wear anything like a moderator hat. It's like amending graffiti; or trying to do censorship "correctly." Those both are at best really hard, and at worst actually feeds the troll.
ɕ
~ Original Tagged Internet Tech, Snark
What they find honorable
Good people will do what they find honorable to do, even if it requires hard work; They'll do it even if it will bring danger. Again, they won't do what they find base, even if it brings wealth, pleasure, or power. Nothing will deter them from what is honorable, and nothing will lure them into what is base.

~ Seneca
Dignity and potential
Acknowledging our fundamental dignity, recognizing our potential and actively working towards its blossoming with sincerity, patience, and integrity, is what makes a life worth living. There will be challenges, and new gaps will constantly open, but recognizing and closing these gaps will make a difference in absolutely everything we undertake.

~ Vincent Thibault
~ Original Tagged Art du Déplacement, Quotes, Vincent Thibault
Another one
Saint-Exupéry extends the invitation to reorient to this particular skyborne machine — and, by a proximate leap of imagination, to technology in general — as something that, rather than alienating us from the rest of nature, could bring us into more intimate and conscientious contact with the world of clouds and creatures.

~ Maria Popova from, https://www.brainpickings.org/2021/08/19/saint-exupery-wind-sand-stars-airplane/
The Little Prince is one of those books that has been on the to-read pile for so long. And now Wind, Sand and Stars seems to be another. One of these days! So many good books, so little time.
ɕ
~ Original
Outrageous
From a very early age, perhaps the age of five or six, I knew that when I grew up I should be a writer. Between the ages of about seventeen and twenty-four I tried to abandon this idea, but I did so with the consciousness that I was outraging my true nature and that sooner or later I should have to settle down and write books.

~ George Orwell
~ Original Tagged George Orwell, On Writing, Quotes
Reading for 'hunh'
But if you only remember six things after reading this article, it should be the following truths about reading:

~ Farnam Street from, https://fs.blog/2021/08/remember-books/
Those six points are right near the top, too. It's a great article about reading. —about a certain kind of reading. I'm not certain what to call the type of reading, but for today "reading to learn" will do as a label. Well, there's another type of reading which I'll call "reading for 'hunh'".
There's deep value in a 'hunh'. When you find one, you can be sure you have just learned something. I spend a lot of time every day reading for 'hunh'. I cast a wide net and then haul the contents up onto the fishing boat deck. I shuffle through the contents in muck boots; you don't want to get this arbitrary stuff really on you. Using a squee-gee I push some of it around in an only vaguely interested fashion. I'm not super-focused. I'm paying attention for sharp edges but I'm not expecting any particular outcome. If I find a 'hunh' it's just that; no more and no less than something simply interesting for the time it's in my realm of awareness. And then I drop it back on the deck. Soon enough I wash it all overboard.
What kind of reading is that?
ɕ
~ Original Tagged Farnam Street, Hunh, Reading
What is it?
What is it—this thing that now forces itself on my notice? What is it made up of? How long was it designed to last? And what qualities do I need to bring to bear on it—tranquillity, courage, honesty, trustworthiness, straightforwardness, independence or what?

~ Marcus Aurelius
~ Original Tagged Marcus Aurelius, Perception, Quotes
Urgency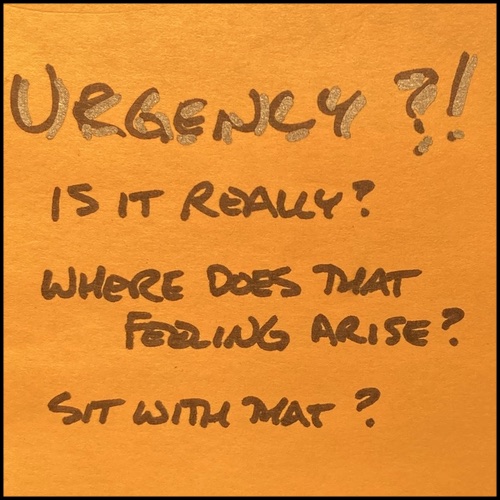 As always, I continue my project of self-improvement. I've long been aware that I take on too much— and yet, all efforts to "take on less" only seem to lessen the problem; Like pulling Dandelion weeds but not getting the entire root out. I've made an insane effort in countless ways over several decades to make progress towards "take on less." I've long known there must be something underlying.
I love to use a tool I refer to as a "wedge", to affect changes by altering the normal sequence of things. A wedge can be used to create a space for consideration, to divert my thinking, or to initiate (or change) an activity. It works because the presence of the wedge alters the mental context. My mind proceeds from idea to idea, with an evolving context for that thinking. As the context changes, it constrains—or maybe, "helps select" is a better description—what ideas are going to come to the fore of my mind next. Trains of thought develop this way. The inserted wedge causes, (if it's done right,) enough of a shift in my mental context.
It's really difficult to have the wedge be a thought. But orange sticky notes work well. (Until you no longer notice them, of course.)
The action of this wedge is to make me think about why I'm about to do this next thing that feels so urgent.
"Is it really [urgent]?"
…like, how a smoke detector sounding off is urgent? Okay, so it's not that urgent.
"Where does that feeling [of urgency] arise?"
And that is where my train of thought shifts. (So far it has been every time I've felt urgency to do something.) Because the feeling comes from my desire for control; There are countless examples. That explains why I'm forever taking on too much.
"Sit with that?"
Sit with that realization that the urgency is a reaction to a desire for control. Sit with the knowledge that every attempt at control—all types, all sizes, all shapes, all degrees… attempted control of anything external—has never ended well for me.
That's not hyperbole.
ɕ
~ Original Tagged Self-awareness, The wedge
I write to
I write to dream; to connect with other human beings; to record; to clarify; to visit the dead. I have a kind of primitive need to leave a mark on the world. Also, I have a need for money.

~ Mary Karr
~ Original Tagged Mary Karr, On Writing, Quotes
Opportunity in adversity
One of the most important factors, are we to be happy and whole human beings, is our ability to see opportunities in adversities. That is one the most powerful lessons in Parkour and ADD: Learning, whenever needed, to thrive on obstacles. Our discipline indeed tells us of the fundamental difference between a fixed mindset and a growth mindset. The former believes, "I am bad at this," the latter proposes, "I am better than this; I can learn something."

~ Vincent Thibault
~ Original Tagged Art du Déplacement, Quotes, Vincent Thibault
Naica
The aim was to detect the possible presence of ancient bacteria encapsulated inside fluid and solid inclusions present in the calcium sulfate matrix from its formation. […] At the 2017 meeting of the American Association for the Advancement of Science, researchers, including Dr. Boston, announced the discovery of bacteria found in inclusions embedded in some of the crystals. Using sterile methods, the researchers were able to extract and reanimate these organisms, which are not closely related to anything in the known genetic databases.

~ Wikipedia from, https://en.wikipedia.org/wiki/Cave_of_the_Crystals
That sounds like the first paragraph from a newspaper article appearing about three days before the world ends. It's been four years though, so I guess it's okay?
How did I stumble on that… I found Podcast: The Naica cave in one of my RSS feeds. I didn't listen, but I did quickly find the Wikipedia page for the Naica Mine. And from there it's just one click to the Cave of Crystals.
This all reads like something the Dwarves would do, leading to their eventually having to abandon Khazad-dûm. Or the beginning of The Andromeda Strain.
ɕ
~ Original Tagged Mexico, Mineralogy