GWSA Email Update for the Month of May 2021
National Long-Term Care Services Standard - Your Input is Important

A collaboration between HSO (Health Standards Organization), SCC (St
andards Council of Canada) and CSA Group (Canadian Standards Association) wants your input for a set of new LTC (Long Term Care) national standards. Contributions from residents, families and the LTC workforce are necessary for establishing national standards that are comprehensive, safe, and define reliable high-quality care practices.

To help in the design and build of the new standards, please consider adding your voice to that of other Canadians about what matters most to you when it comes to long-term care. Complete their survey. The link can be found at the bottom of the HSO page.

Federal Budget 2021 Highlights Affecting Seniors

The Minister of Seniors, Deb Schulte, has pulled some highlights from the 2021 budget that may be most relevant to you:

Increasing Seniors' Financial Security
The government will increase Old Age Security (OAS) benefits for seniors age 75 and older. Budget 2021 proposes to implement this commitment in two steps:
By providing a one-time payment of $500 in August 2021 to OAS pensioners who will be 75 or over as of June 2022.
By introducing legislation to increase regular OAS payments for pensioners 75 and over by 10 per cent on an ongoing basis as of July 2022.
This would increase the benefits for 3.3 million seniors, providing additional benefits of $766 to full OAS pensioners in the first year, and indexed to inflation going forward.

This would give seniors more financial security later in life, when they are worried about outliving their life savings. As seniors age, their health and home care costs rise, all while they are more likely to be unable to work, have disabilities or be widowed. Our plan helps address these pressures and improve older seniors' quality of life.

Helping Seniors Age Well at Home
To support seniors to live in their homes for longer as they age, Budget 2021 proposes to provide $90 million to launch the Age Well at Home initiative.The initiative would assist community-based organizations in providing practical support that helps low-income and otherwise vulnerable seniors age in their homes.

It would match seniors with volunteers who can help with meal preparations, home maintenance, daily errands, yard work, and transportation. It would also help seniors access local services such as shoveling snow, cutting grass, picking up medicine and taking care of other practical, non-medical tasks that they are no longer able to manage.

Strengthening Long-term Care and Supportive Care
We welcome the Health Standards Organization and Canadian Standards Association's work to develop national standards for long-term care. Their work with governments, stakeholders, and Canadians will help inform our ongoing collaboration with provinces and territories on improving long-term care, while respecting their jurisdiction.

Budget 2021 proposes to provide $3 billion over five years, starting in 2022-23, to Health Canada to support provinces and territories in ensuring standards for long-term care are applied and permanent changes are made, so that seniors and those in care live in safe and dignified conditions.

More Supports of Interest to Seniors
In addition to the supports mentioned above, Budget 2021 proposes to:
Build, repair, and support an additional 35,000 affordable housing units for vulnerable Canadians, including seniors. This is part of the National Housing Strategy, which is on track to invest $70 billion by 2027-28 to help more Canadians find an affordable place to call home.
Help more families and people living with disabilities access the existing Disability Tax Credit and other related support measures.
Improve access to palliative care and end-of-life care, including culturally sensitive care by proposing to provide $29.8 million over six years, starting in 2021-22, to Health Canada to advance the government's palliative care strategy and lay a better foundation for coordinated action on long-term and supportive care needs.
Provide $100 million over three years, starting in 2021-22, to the Public Health Agency of Canada to support projects for innovative mental health interventions for populations disproportionately impacted by COVID 19, including seniors.
Invest $400 million in 2021-22 to Employment and Social Development Canada to create a temporary Community Services Recovery Fund to help charities and non-profits adapt and modernize so they can better support the economic recovery in our communities.
Extend the Canada Recovery Caregiving Benefit an additional 4 weeks, to a maximum of 42 weeks, in the event that caregiving options are not sufficiently available.
Invest $50 million over five years, starting in 2021-22, for the Public Health Agency of Canada to design and deliver interventions that promote safe relationships and prevent family violence, including elder abuse.
Provide an additional $15 million over three years, starting in 2021-22, to Veterans Affairs Canada to expand and enhance the Veteran and Family Well-Being Fund for projects that will support veterans during the post COVID-19 recovery, including addressing homelessness, employment, retraining, and health challenges.
The Government of Canada's top priority remains protecting Canadians' health and safety, particularly during this third, aggressive wave of the virus and its variants. The vaccine rollout is accelerating across Canada, and the federal government is on track to receive 48 to 50 Million doses by the end of June.

Groceries from The SEED - It Takes a Community to Feed a Community

Groceries from The SEED is a pay-what-you-choose online grocery s
tore with a purpose! Our goal is to make Guelph-Wellington the first community in Canada where everyone has access to good food. Those who can afford to buy some of their groceries this way (with delivery!) can help to subsidize people who cannot afford to pay for their groceries. It would be a great help to many of our CSS clients as an ongoing way to access food!


Benefits of Membership:
You have access to high quality groceries at competitive prices
Your groceries are delivered to your door
Our innovative pay-what-you-choose pricing offers choice and dignity to community members who otherwise can't afford groceries
100%-paying Members have the satisfaction of knowing their food dollars are helping others access good food
If we meet our goal of 500 new Retail Memberships, we will be able to offer Discount Memberships to 760 households!

For more information go to the website at SEED
On-Demand Bus Service

Guelph Transit introduced On-Demand Bus Service on May 2nd. On-demand differs from conventional transit in that there is no fixed route or schedule, and b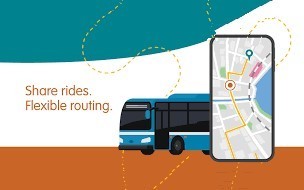 uses are dispatched on a request-basis. This means more flexibility for you as you can book a ride when it's most convenient for you.
You can book a ride using the free app, by phone or from the website, and the bus will pick up and drop off at pre-set locations throughout the city.
On-demand service can be requested from anywhere in the city and will replace the Community Bus (north and south loops) and route 16 Southgate. The service will also extend into the Hanlon Creek Business Park, located west of the Hanlon Expressway in the city's south end.
Service to the two business parks is the same as conventional service hours (Monday to Saturday 5:45 a.m. to 12:15 a.m. and Sunday 9:15 a.m. to 6:45 p.m.) and on-demand service to other areas in the city is Monday to Saturday between 8:30 a.m. and 4:30 p.m. There is no additional cost to take an on-demand trip; use regular transit fare for the ride.
Learn all about the service and how to book your ride here: https://guelph.ca/living/getting-around/bus/schedules/on-demand-bus-service/

GWSA Annual General Meeting

For more information visit the Guelph Wellington Seniors Association website at GWSA..

The GWSA Needs You

The GWSA is currently recruiting for Virtual Volunteers to assist with Committees, Special Events and on the GWSA Board of Directors.
There are currently no "in-person" volunteer positions at the Evergreen Seniors Community Centre.

You can check out our current list of Volunteer Opportunities at https://gwsa-guelph.ca/volunteer-opportunities/
Please speak to Becky MacDonald (519-822-1260 X 2096) OR email her at becky.macdonald@guelph.ca for information on any of the volunteer opportunities listed.
How to Strength Train as you Age
Virtual Workshop June 17th at 11 am

Should you lift weights? Does it sound scary? Do you want to start strength training, but feel intimidated, do not want to get too bulky and have no idea where to start? Our Fitness Director recommends adding strength training to your rou
tine. Strength training is vital in avoiding injuries and maintaining functional strength as you age. Beginning at about age 30, men and women lose muscle mass at about the rate of 10 percent per decade until about 50, when that loss accelerates to 15 percent per decade. Over time, the loss of muscle mass can be severe, greatly affecting your quality of life. Don't wait until it's too late. In this seminar, you will be given an introduction to strength training and why it is so important as you age. You will also be given tips on how to strength train as you age as well as a basic strength training program for beginners.

This workshop is sponsored by OASSIS - the association for not-for-profit organizations' benefit plans.

Register in advance for this meeting:

https://us02web.zoom.us/meeting/register/tZUof-GqqD4iH9VSjvvR0hhYNFyfRZoApPJu

After registering, you will receive a confirmation email containing information about joining the meeting.
Connecting Circles - Social Change Workshop Series
In February, 10C (10 Carden) launched a pilot program called Connecting Circles. 10C Connecting Circles are safe, free opportunities for older adults and seniors in Guelph and Wellington County to virtually connect with people and organizations in their community.
The Connecting Circles: Social Change Series is a gathering of intergenerational participants in Guelph and Wellington County to learn, connect and build back better as a community, post pandemic.
Each Monday night we will be unpacking a topic of social change within our community – especially those which have been sorely needed during this pandemic (eg. economic equality, environmental protection, mental health support). Our main goals for this series is to educate participants on social issues, share resources and inspiration to help drive change in our community, and allow participants to make connections within their community to fight social isolation.
Each Monday night Circle will include a speaker (or multiple in a panel style discussion), followed by facilitated group discussions, activities and open Q&A. We want to enable participants to become changemakers in their own community and create a safe space for ideas to be shared and questions to be answered.
10C Connecting Circles are safe free opportunities for older adults and seniors in Guelph and Wellington County to virtually connect with people in their community. These weekly Zoom calls are meant to bring adults and seniors together, encourage intergenerational sharing and bring some joy into peoples homes.
10C Shared Space is grateful for the support of our Connecting Circles community partners: The People and Information Network and Guelph Wellington Seniors Association.
Click below for information on upcoming workshops.
https://10carden.ca/connecting-circles/

Music in the Hills - Jim Cuddy In Person Drive-in Performance June 25th
Jim Cuddy (remember him from Blue Rodeo) will be performing a benefit concert on June 25th at the Mansfield Ski Club in Mulmur (north of Orangeville). Every car participating in the event will receive a "swag bag".

This benefit concert is in aid of the Suicide Awareness Council of Wellington-Dufferin.

For more information and to purchase tickets visit the Music In the Hills website.

May Sentinel is Available Now

Read online or download your own copy: The Sentinel May 2021